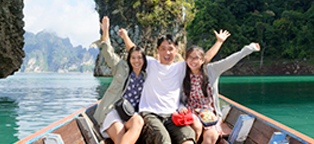 11/27/2017
Travel season is here, offering endless destination options and the chance to relax and recharge with friends, family and loved ones, but it can also be an expensive time to travel. Here are a few tips to help you get the most out of your next trip, stretching those travel dollars even further.
1.) Be a bargain-hunter
We've all heard of finding a cheap flight by using aggregator sites such as kayak.com or trivago.com, but there are other places to seek great deals, including online "warehouses," like Groupon Getaways, TravelZoo and LivingSocial.1 Be sure to read the fine print on any deal.
2.) Be detailed in your research
When you are looking for places to stay while on vacation, scrutinize the details of resort and hotel offerings. Don't assume that all amenities are included. For example, is breakfast free? Are wifi and parking free? Expenses can add up quickly, especially if you have a large family. Do your homework before booking your next trip.
3.) Remain flexible
If you don't have to be restricted to a family trip in summer, try booking your next vacation during an off-peak season where a better rate is most likely offered. While the weather might be a bit cooler or warmer than expected during the off season, some attractions or parks may be less crowded leading to a potentially more enjoyable experience while also saving you money. When it comes to hotels, sites such as Hotel Tonight and Last Minute Hotels rewards those who practice patience and flexibility with last minute deals and discounts of up to 60% on their stay.1
4.) Find alternate places to stay
Whether you are traveling alone or with your family, you can save money simply by staying outside of the city-center. Opt for a hotel just outside the city limits and you could save a bundle.
5.) Be open-minded
When traveling on a budget, people often default to simply looking at the cheapest hotels but that isn't the only budget-friendly option available. There are endless opportunities for your stay if you just keep an open mind. Airbnb, for example, offers many different accommodations, from extra rooms in private homes to entire vacation villas and even live-in sailboats – many of which can be less per night than a standard hotel. Don't be afraid to get creative and have fun!
6.) Earn rewards points and join clubs
Do your research on good travel clubs and travel email groups, and investigate your credit card's rewards system. Each of those options may save you hundreds on your vacation, whether in the form of heavily discounted airline tickets or lower prices on rental cars, hotels or vacation packages.
1 https://www.forbes.com/sites/nextavenue/2013/09/30/7-ways-to-travel-smarter-cheaper-and-more-often/#63e961704a76