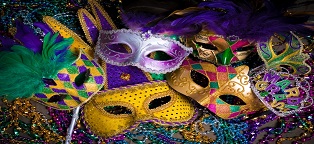 01/09/2017
Around the world, celebrations and parades commemorate Carnival, a festival that takes place before the Christian tradition of Lent. A global phenomenon, different countries mark this period of jubilation differently. And for anyone traveling abroad during this special time, there is an unparalleled opportunity to experience another culture at its most inviting.
Carnival is observed by dozens of countries around the globe, but here are just a few of the most interesting places to enjoy the celebration:

1. Rio de Janeiro, Brazil
Already one of the most exciting, vibrant cities on the map, Rio de Janeiro offers an unforgettable Carnival celebration. In fact, it holds the Guinness Book of World Records title for the largest Carnival on earth. Hundreds of thousands of foreign visitors greet millions of locals in parades, dancing and merriment. Samba dancing and outrageous costumes make for memorable photos, and during Carnival you can enjoy the heart and soul of this wonderful city. Although many places observe this celebration, few can top Rio de Janeiro.
In 2017, Ash Wednesday falls on March 1. For that reason, Carnival celebrations begin around February 23 and last until the following Tuesday.

2. Venice, Italy

A city known for it's refined culture and timeless elegance, Venetians show their wild side when Carnival comes around. Parades are an institution for Carnival celebrations around the world, and in Venice they are conducted along the famous canals and waterways.
Reuters reported that another major part of the festivities is a "best mask" contest. Locals adorn ornamental face masks, which are graded and judged by fashion designers from around the world.

3. New Orleans, United States

Prior to Ash Wednesday, which marks the first of the 40 days of Lent comes Fat Tuesday, a moment to let loose and really unwind. And when it comes to celebrating Fat Tuesday, it's hard to beat Mardi Gras.
Jazz music fills the air as Bourbon Street becomes a haven of libations, dancing and music. For two months surrounding Fat Tuesday, New Orleans is awash in merriment and joy, as visitors and city natives indulge with gumbo, Jambalaya and other Cajun favorites. There are places the entire family can celebrate, as well as locations and venues that are best suited for adults only.

4. Goa, India

One of the premier beach destinations in all of South Asia, Goa is also home to one of the region's biggest and most exciting Carnival celebrations. Also known as Intruz, dancing and parades dominate the festivities and continue all night long in the days leading up to Ash Wednesday. Portuguese customs have blended with Indian culture to create a unique experience, which also includes a hint of Brazilian influence like Samba dancing.
5. The Caribbean

Across the Caribbean islands, Carnival is among the largest celebrations of the year. From Cuba and Haiti to the smaller nations like St. Maarten or Anguilla, there is feasting and partying to the tunes of meringue, calypso, reggaetone and other unmistakably Caribbean music. One of the best ways to experience Carnival in the Caribbean is to visit multiple islands in one trip. That way, you can see many local customs and traditions. No matter where you spend Carnival, prepare for a memorable party.

Contact your travel insurance provider for further assistance.
The information contained here is provided by Brafton. AIG Travel assumes no responsibility for the use, accuracy, or interpretation of the information contained herein.