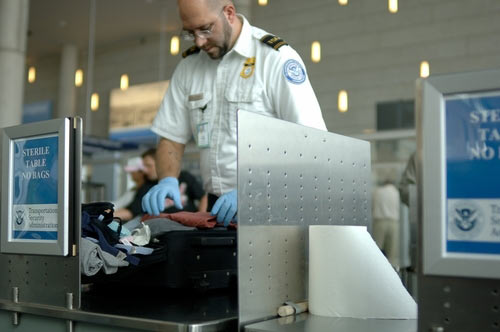 10/28/2016
Whether you're traveling with kids or simply have a lot of items in your carry-on bag, getting through airport security can be stressful. The long lines and rush to get to your gate on time for your flight only adds to the overwhelming experience. However, there are travel tips and tricks that can help people avoid the anxiety associated with getting through airport security. Here are a few ways to ensure your next experience with security is stress-free.
1. Take note of TSA rules
The Transportation Security Administration has specific rules about what you can bring onto the plane in your carry-on and how to get your items through the security checkpoint. For example, you can't take more than 100 milliliters of liquid onto an aircraft. If you have more, airport officials will ask you to dispose of it.
Other belongings like medication and electronics should be placed in an easily accessible space in your bag so you don't have to shuffle everything around while the person behind you in line waits. However, be sure to declare amounts larger than 3.4 ounces, which is the standard limit of medically necessary gels, liquids, and aerosols, to security officers at the checkpoint for inspection. All of these have to go in a separate container for the X-ray machine. Forgetting to remove them from your carry-on will cause the line to stop and officials to search through your bag.
2. Use family lanes
If you and your loved ones are embarking on family travel, most airports have special lanes to accommodate parents and their children. Fatiha Saouli, a spokesperson for Aéroports de Paris, told Conde Nast Traveler that research has found that travelers, especially those with families, consider going through security to be one of the worst parts of their trips.
"A lot of studies show that going through security checkpoints is the most stressful part of the airport experience," said Saouli. "As we are fully aware of this fact, security staff are trained to give extra care to elderly people and families with children. On peak days, we even have special lanes at security for people traveling with kids because they are often traumatized to have to put their stuffed toys through the X-ray."
Not only will you get to skip the long lines that usually snake around airport security, but these special family lanes have extra space for large items, such as strollers, and are equipped to handle travelers with toddlers and babies in tow.
3. Get to the airport extra early
Getting to the airport a few hours before your flight is something that all experienced travelers would recommend. There's nothing worse than being pressed for time and finding that the line for airport security is going to take longer than you have. It's common for unexpected events to occur, such as being selected for a bag screening, which can tack on a significant amount of time before you'll get to your gate.
At most airports, officials will try to help travelers in a rush get to their flights on time. If you didn't plan ahead and are going to miss your flight if you continue to wait in line, ask a nearby staff member to assist you in moving to the front. No matter how stressed you are, it's always best to be polite to the airport security officials. They're working to ensure everyone is safe, which can be stressful as well. It's always a good idea to be polite to airport staff, as they'll be less likely to assist you if you're rude or aggressive.