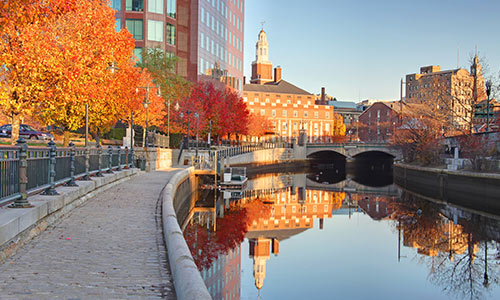 9/13/2021
The time of year is approaching when Mother Nature has a way of painting a captivating picture with hues of red, orange and yellow that reminds us just how special fall truly can be.
If you want to make the most of fall and capture the changing leaves in all of their glory, plan a trip to New England. There, the autumn scenery mixed with the fall foliage is nothing short of spectacular.
Here are a few New England spots to consider on your fall foliage tour:
1. Providence, Rhode Island
Rhode Island's capital city is a great place to visit any time of year, but fall in Roger Williams Park creates a jaw-dropping scene that you won't want to miss.
2. East Haddam, Connecticut
While Connecticut may be well known for Yale University located in New Haven, East Haddam is the place to be if you're looking for changing leaves. Devil's Hopyard State Park, for example, is the perfect depiction of Mother Nature working her magic and letting it shine in all of its glory during fall.
3. Woodstock, Vermont
Looking for a town that's bursting at the seams with historic splendor? Woodstock is the spot to explore, where you can find the Norman Williams Public Library that dates back to the 1880s. You can also visit the Billings Farm and Museum, a fully functioning dairy farm that goes hand in hand with the picturesque fall foliage this time of year.
4. Franconia, New Hampshire
Franconia Notch State Park offers an immaculate landscape for those who want to explore the great outdoors. It's where the Old Man of the Mountain, also called the Great Stone Face and the Profile, can be found. With hiking, biking, fly fishing and other activities galore, there are plenty of ways to take in the gorgeous fall foliage.
5. Bar Harbor, Maine
If you want to go big and bold with your New England hiking excursion, you can't pass up the opportunity to visit Acadia National Park in Bar Harbor. It's ideal for watching the sunrise along the shoreline; you can drive, bike or walk along Ocean Drive to say good morning to the changing leaves.
6. Concord, Massachusetts
Northwest of Boston, Concord is known mostly for its American Revolutionary War sites located in Minute Man National Historical Park. Tour these historical sites and gaze upon the colors of fall simultaneously.
Whether you're planning a road trip through the New England states or you're looking for a single destination, the northeastern region of the U.S. is the place to be during the season of fall. Each of these travel spots will make you wonder why you've ever spent autumn elsewhere.