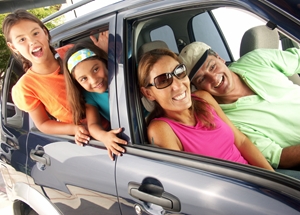 9/28/2020
Kids can have all the mobile apps, electronic games and digital movies they want, but after sitting in a car for an extended period of time, children grow tired of these objects. Not only can they quickly become repetitive, but staring at a screen for too long while sitting in the car can be dreadful. Parents who are seeking more engaging ways to keep their children entertained during road trips should consider the following time-tested car games for children:
1. Spotting the 50 states
Prior to your trip, print a list of all 50 states for each of your kids. Every time they see a car with a license plate from one of the states, have them mark it off. This game can go on for the duration of the trip, so be sure to remind your children to keep their eyes peeled!
2. Road sign Bingo
Provide your children with Bingo boards that they can mark off each time they see one of the items. Consider making your own Bingo board that relates to your specific trip. For example, if your family is driving down to Disney World, try to fill the squares with Disney-related statements. One block could read "Mom singing a song from 'The Lion King,'" or "Dad quacking like Donald the Duck." When the child gets three items in a row, he or she must yell "Bingo" to win.
3. My cow
Road Trippers explained the premise of one children's game called "My Cow." Each time the family passes a herd of animals - whether its a team of horses or flock of sheep - the child must yell "My cow!" Once the creatures have been claimed, the child adds them to his or her personal collection. The source encourages families to add their own rules to the mix as they see fit.
4. The picnic game
This game is ideal for promoting educational and fun activities for children. The Picnic Game, as explained by Edmunds, allows kids to practice their alphabet skills while expressing their creativity. One person begins by saying "I went to a picnic and I brought - " The player must then say something that begins with the letter A, such as, "I went to a picnic and I brought some almonds." The next person must then add an item that starts with B, but must also say the item prior. So they would say, "I went to a picnic and I brought some almonds and some blueberries." The game continues until the children cannot think of an item or someone forgets any of the previous things.