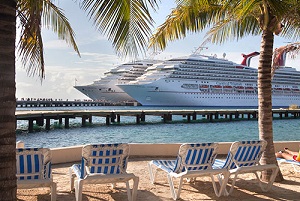 03/01/2019
The Caribbean is among most popular cruise destinations worldwide. Of the more than 25 million global cruise passengers who embarked on oceanic journeys in 2017, approximately 35 percent traveled to this region, according to research from The Florida-Caribbean Cruise Association. There is good reason for such traffic. Caribbean hotspots such as Antigua, Aruba and Jamaica offer robust amenities ideal for cruisers interested in relaxation while more off-the-beaten-path locations like Curaço and St. Kitts feature charming, culturally rich landscapes known to tempt adventurers and history buffs, Condé Nast Traveler reported. Of course, virtually all the islands that dot the Caribbean Sea boast pristine beaches awash with turquoise water.
With these island attractions in play, choosing to cruise the Caribbean is an easy decision. However, handling the logistics is little more complicated, and packing is perhaps the most common planning issue among cruisers heading to the Caribbean, as onboard activities and the regional climate vary wildly. That said, you can avoid suffering this stressful situation by making an essentials list. Here are some items you should include:

Travel documents
Caribbean cruises unfold amid international waters and transport travelers to multiple nations, each with disparate immigration processes. You will likely therefore need your passport, per USA Today. However, in the event that you are going on a closed-loop cruise where you exit and enter the U.S. at one location, any government-issued photo ID may be enough, depending on the international points of entry you plan to visit.
Formal clothing
Many travelers do not think to bring along formal clothes on cruises, as these nautical adventures are most often associated with sandals and summery button-ups. In reality, most cruise ships host swanky dinners with enforced dress codes, according to Frommer's. As you pack your suitcase, be sure to throw in some classier attire. Collared shirts, slacks and dress shoes are ideal for men, while dresses are good options for women.
Multiple currency options
All of the nations in this oceanic region have unique currencies. For instance, the Cayman Islands in the western Caribbean uses the Cayman Islands Dollar while the Dominican Republic leverages the Dominican peso, Trip Savvy reported. That said, many of the countries there accept the U.S. dollar, along with most major credit cards. You should consider distributing your budget among all of these tenders to ensure you can take full advantage of the shopping scene during shore excursions.
Emergency medication
Motion sickness is an immense issue for many travelers. If you count yourself among these the wave-weary, you should definitely pack some antihistamines or medication containing scopolamine, USA Today reported. You should also consider bringing along some additional remedies, including ginger-based products, as these items can take the place of medicine when mild bouts of sea sickness strike.