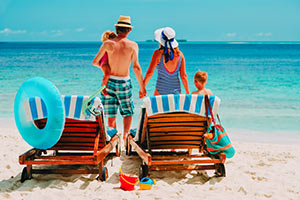 09/05/2019
Now that the summer travel season is finally here, vacationers around the U.S. are mapping out their plans and hunting down available deals. Whether you're looking to explore a foreign country, relax on the beach or visit family on a road trip, there's no shortage of opportunities to soak up the sun and enjoy your time away from work. To help you get the most out of your upcoming trip, consider these simple summer travel tips before heading out on your seasonal adventure.
Consider an all-inclusive family vacation
According to a recent survey by Bankrate, just 52% of Americans are planning to take a summer vacation this year, with a majority of respondents citing affordability as the number one reason they're staying home. While summer travel can be expensive, there are plenty of low-cost vacation packages that can fit into a tight budget. For example, most Caribbean resorts offer bundled pricing options that include the cost of hotel rooms, meals, beach access and even local activities. If you're looking for an affordable family vacation, an all-inclusive retreat may be the best place to start.
Book flights on the weekend
Another simple way to cut vacation costs is to take advantage of airline booking trends and secure the most competitive ticket prices you can find. A 2019 report from Skycanner found that Saturdays are the overall cheapest day for booking domestic flights, while Sundays provide the best deals on international travel. It's also important to book your tickets at least three weeks in advance, weigh the benefits of direct flights versus stop-overs and locate discounts for bundling airfare and hotel rooms.
Leave the heavy luggage at home
Packing light can not only help you save money on airfare, it can also prevent you from dragging around heavy luggage and wasting time at the baggage claim carousel. Some useful travel tips include rolling your clothes, prioritizing multi-purpose footwear and wearing your bulkiest items onto the plane. Fitting all your essentials into a single carry-on may sound like a challenge, but creating a minimalist packing list can help you eliminate unnecessary belongings and maximize your bag space.
Take a road trip
Road trips offer a great alternative for vacationers who want to avoid long flights and explore a variety of unique destinations, though careful planning is essential. If you're thinking about heading onto the open road, map out your pit stops in advance to ensure you don't run out of gas, snacks or patience. Balancing driving time with physical activity is also a great way to keep your batteries charged and your passengers excited. Vacationers who are concerned about their personal vehicles often book rental cars to give themselves peace of mind during their cross-country road trips.
Avoid beach burnout
While many family vacations and day trips are centered around visiting the beach, there are a variety of alternative summer travel experiences you can enjoy. One of the best ways to find local activities is to check Groupon's "Things To Do" page, which is filled with affordable indoor and outdoor excursions. Beach-weary travelers can visit museums, attend state fairs and special events, explore national parks or spend a day walking around a nearby city.
Drink plenty of water
Whether you're at the beach or on the road, keeping yourself hydrated is crucial for maximizing your summer vacation and staying healthy in the hot weather. In an interview with HuffPost, registered dietitian and nutritionist Lauren Minchen pointed out that the amount of water you need is largely dependent on your body weight, though active adults should consume around 2 to 4 liters per day. However, if you're planning to spend a lot of time in the sun or engage in outdoor physical activities, it's a good idea to bring along a few extra liters just in case.
Don't forget to reapply sunscreen
Sunburns are one of the most common summer travel injuries, and while they may not be immediately life threatening, overexposure to UV rays can lead to serious health problems down the line, per the National Cancer Institute. Vacationers should reapply their sunscreen every couple of hours, especially if they have sensitive skin, and keep a close eye on the UV index by visiting the Environmental Protection Agency's website or downloading its handy mobile app.
Remember to go with the flow
Overbooking your summer vacation can force you to rush from place to place without any time to relax, so be sure to capitalize on opportunities to rest and recuperate. This is particularly important for family travel, as a day full of activities can over-stimulate young children and leave them exhausted and irritable. Spending an hour sitting in the shade or reclining by the pool can give everyone a much needed break and keep them energized for all the fun activities you have in store.