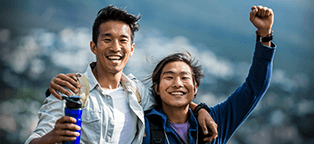 06/14/2018
HOUSTON – June 14, 2018 – In celebration of Pride Month, AIG Travel, a worldwide leader in travel insurance and assistance services, is launching a travel safety education initiative this week to help raise awareness of members of the LGBTQ community of potential risks while traveling.
Many individuals who identify as LGBTQ may face unique security and safety challenges when traveling for work or leisure, especially to countries where sexual orientation and/or gender identity are criminalized or marginalized. According to the International Lesbian, Gay, Bisexual, Trans and Intersex Association, homosexuality is illegal in 72 countries – more than one-third of the world.
"AIG Travel recognized the need for greater understanding and awareness regarding safety for LGBTQ travelers and we took steps to ensure this community didn't feel deterred from traveling due to the potential added risks," said Jeff Rutledge, CEO at AIG Travel. "Our educational outreach initiative recommends safety measures and provides advice to help ensure LGBTQ individuals can travel with confidence."
As part of the initiative, AIG Travel partnered with LGBTQ advocacy group ManAboutWorld to develop a guide for travel safety, which includes a collection of the most reliable and current online resources.
The downloadable guide and several other resources, including specific travel tips and information regarding prevailing cultural and legal norms toward LGBTQ individuals by world region, are available on AIG Travel's dedicated LGBTQ website, aig.com/travel/lgbtq. The tips address:
Research – Thoroughly research travel destinations to understand the cultural, legal and security issues that may affect LGBTQ travelers.
Public displays of affection – In some countries, identifying as LGBTQ might be frowned upon and in certain societies, shows of affection may run counter to cultural or religious practices (for homosexual or heterosexual couples).
Traveling with children – Bring copies of birth certificates and adoption, custodial or guardianship papers for minor children.
Transgender travelers – If possible, ensure that the gender listed on travel documents, including photo identification, matches your presentation to help you transit more easily through airport security and customs.
The LGBTQ initiative is the second travel safety awareness campaign launched by AIG Travel. The first campaign was designed to provide female travelers, whether traveling for leisure or business, with an empowering guide to help minimize risks while traveling.
Visit www.aig.com/travel/lgbtq to view AIG Travel's LGBTQ travel advice and resources, and follow AIG Travel on Twitter, Facebook, Instagram and LinkedIn for more information about travel insurance and ways to ensure safe and enjoyable travel experiences.
 
###
About AIG Travel and Travel Guard
AIG Travel, Inc., a member of American International Group, Inc., is a worldwide leader in travel insurance and global assistance. Travel Guard® is the marketing name for its portfolio of travel insurance solutions and travel-related services, including medical and security services, marketed to both leisure and business travelers around the globe. Services are provided through a network of wholly owned service centers located in Asia, Europe and the Americas. For additional information, please visit our websites at www.aig.com/travel and www.travelguard.com.   
About AIG
American International Group, Inc. (AIG) is a leading global insurance organization. Founded in 1919, today AIG member companies provide a wide range of property casualty insurance, life insurance, retirement products, and other financial services to customers in more than 80 countries and jurisdictions. These diverse offerings include products and services that help businesses and individuals protect their assets, manage risks and provide for retirement security. AIG's core businesses include Commercial Insurance and Consumer Insurance, as well as Other Operations. Commercial Insurance comprises two modules – Liability and Financial Lines, and Property and Special Risks. Consumer Insurance comprises four modules – Individual Retirement, Group Retirement, Life Insurance and Personal Insurance. AIG common stock is listed on the New York Stock Exchange and the Tokyo Stock Exchange.
Additional information about AIG can be found at www.aig.com | YouTube: www.youtube.com/aig | Twitter: @AIGinsurance www.twitter.com/AIGinsurance | LinkedIn: www.linkedin.com/company/aig. These references with additional information about AIG have been provided as a convenience, and the information contained on such websites is not incorporated by reference into this press release.
AIG is the marketing name for the worldwide property-casualty, life and retirement, and general insurance operations of American International Group, Inc. For additional information, please visit our website at www.aig.com. All products and services are written or provided by subsidiaries or affiliates of American International Group, Inc. Products or services may not be available in all countries, and coverage is subject to actual policy language. Non-insurance products and services may be provided by independent third parties. Certain property-casualty coverages may be provided by a surplus lines insurer. Surplus lines insurers do not generally participate in state guaranty funds, and insureds are therefore not protected by such funds.