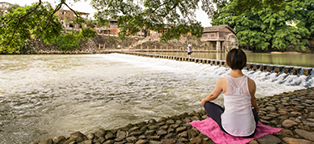 07/06/2018
Traveling for physical and mental health isn't a new topic, but purposely seeking out wellness opportunities while traveling is an increasingly popular trend in tourism. Because wellness travel promotes health and wellbeing physically, mentally, spiritually and emotionally, the goal is to feel better when returning home than on departure. Here are several ways you can begin to incorporate wellness into your next trip:
Track your mileage
Travel presents many natural opportunities for walking, thought by many experts to be one of the best exercises for mind and body. These are just a few examples: The move from check-in to your terminal, the journey, sometimes upstairs, to your hotel room, and the ground covered while sightseeing. Use a smartphone app or a GPS-enabled watch to track your steps. Also, consider how many calories you can burn when you choose to stay on the move while you are away from home.
Rent a bike
Why drive when you can ride a bike? At your destination, or even before you arrive, consider renting a bike and riding it within the area you are exploring. If your travels take you to Europe, you'll likely be among fellow bikers, as many locals already pedal to their daily destinations.
Indulge in a massage
Nothing gets you in the groove of unwinding while on vacation more than enjoying a good, old-fashioned massage. You don't have to break the bank to feel rejuvenated, either. Look for local massage schools, which often offer discounts on services. For those traveling in the U.S., MassageSchool.org is a great resource.
Find local running trails
Who needs hotel gym equipment when they can take in the beauty of nature while jogging on a running trail at their destination? While on a layover, use the time to research local running trails in the area where you will be staying. Alternatively, if you have time to check out your options ahead of your flight, all the better to help you be prepared!
Locate a yoga studio
If your membership to your local gym doesn't include access to affiliated gyms in other cities, check into the availability of on-the-fly yoga classes at a stand-alone studio at your destination. Yoga promotes stress reduction and deep relaxation so that you are ready to face the day or unwind from hours on the go. Treat yourself to a session, and chat with the locals before and after your class to get recommendations for the rest of your trip.
Healthy dining
Wellness isn't solely about staying in shape. What you put in your body can be just as beneficial to looking and feeling your best. While on vacation, consider taking a cooking class on how to best prepare healthy food – then enjoy your hard work at a sit-down dinner with your class! Farm-to-table restaurants offer another great way to graze on healthy food as you travel. These farm-to-table restaurants listed in Travel & Leisure can get you started.