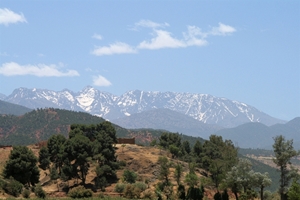 5/10/2013
Over the last 10 years, few countries have seen a steeper rise in visitors than Morocco. Traveling around the country has become easier during the last decade, and officials hope to increase its tourist draw even more by 2020. With bustling markets, a beautiful landscape and a wide variety of cities that have something for everyone, the country already has plenty of appeal. Anyone planning a trip to Morocco should keep a few things in mind when crafting their itinerary, CNN Travel reports.
Visit the smaller cities
There are few Moroccan destinations that are especially popular - the big cities of Fez, Marrakech and Casablanca in particular - but experts recommend turning your attention to spots that may not get as many visitors. Among the best destinations is the tiny village of Merzouga. Located near the southern border with Algeria, Merzouga is especially appealing due to its proximity to the famous Erg Chebbi. These iconic sand dunes can only be reached on the back of a camel.
Of course, Merzouga is not the only highlight in Morocco. The western city of Essaouira, which has an idyllic location on the Atlantic coast, gives off a relaxing vibe that's a nice contrast to the bustling cities. Additionally, hiking the Berber villages is perfect for those looking to add some adventure travel to their trip, according to CNN.
Walk the streets of Tangier
Located in the northernmost corner of Morocco, Tangier is home to some of the best tourist destinations in the country. There are plenty of hotspots you should hit, but you can't go wrong visiting Grand Socco, one of the city's most vibrant squares. Specifically, you may want to head here during the evening when it is bustling with vendors selling a wide variety of second-hand goods. There are also a number of cafes dotting the streets, including Cafe Hafa, which overlooks the picturesque Strait of Gibraltar, CNN notes.
Don't forget the natural attractions
While Morocco's cities are certainly popular, you'd be remiss if you didn't hit some of the natural highlights. One of the best options is the Cascades d'Ouzoud, which are among the most beautiful waterfalls in the world. Nestled in the Central High Atlas mountains, this stunning formation features water coursing down more than 325 feet of rocks into the river below.