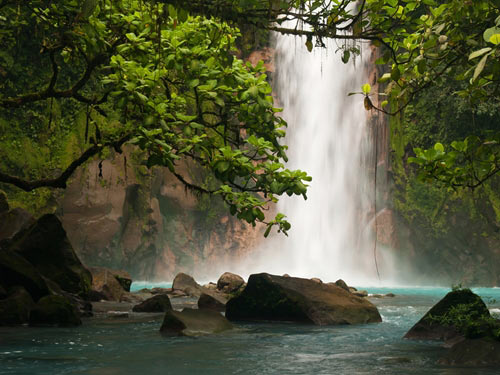 8/21/2017
Costa Rica has become a hotspot for travelers of all ages and interests over the past few years. The biologically diverse region is home to some of the most stunning natural sites and historic attractions, so many that it's obvious to most of the country's visitors why the Spanish dubbed it "the rich coast" in 1502.
If you're looking to explore the lush jungles, test your skills on a whitewater rafting experience or you're simply longing for a sunny day at a quiet, white sand beach, Costa Rica has got you covered.
Here are just a few of the reasons you should add one of Central America's most visited countries to your list of places to see this summer.
1. It has some of the most beautiful yet affordable hotels in the region
During Costa Rica's green season - from May to December - hotels usually drop their average rates by as much as 30 percent, according to Conde Nast Traveler magazine. The country's dry season is when the majority of travelers visit, so everything is more crowded and expensive. This is why taking your trip in the summer is usually best. The online travel source recommended August as the ideal time to take your vacation, as most hotels will offer discounts of up to 50 percent or higher.
Consider reserving your spot at the Lapa Rios on the Osa Peninsula, where you'll find yourself truly immersed in nature and surrounding wildlife. Lapa Rios may be one of the destination's most popular resorts - with prices near $430 a night during high season - but if you plan your trip for the summer, you'll find rates lowered to around $280 per night. Costa Rica is also packed with affordable hostels for those embarking on student travel.
2. The national parks are stunning
You may have been to Yellow Stone National Park or Yosemite, but have you ever traveled to a destination with several national parks at your disposal? Costa Rica offers wilderness lovers the chance to explore hotspots like Selvatura Park, Manuel Antonio National Park, Tortuguero National Park, Arenal National Park and Monteverde Cloud Forest Biological Reserve. Travel + Leisure magazine suggested getting breathtaking panoramas of the Arenal Volcano at Arenal National Park or going zip lining above rare plant life in Selvature Park for the ultimate heart-stopping experience.
Rough Guides noted that Corcovado National Park is also a popular attraction for people who want to see a variety of exotic species and enjoy incredible vistas of natural sites like one-of-a-kind ocean views. This coastal rainforest is also considered one of the most biologically diverse settings in Costa Rica, so you're sure to see a rare mix of plants and animals roaming in your midst as you venture by foot through the outdoor-lover's paradise.
3. You'll find a wide variety of beaches
Costa Rica consists of more than 1,000 miles of coastline, which means that there are plenty of beaches to choose from for all of the sun worshippers visiting the tropical country. You'll find everything from public beaches with lots of action, such as the oasis in Manuel Antonio National Park, to quieter beaches owned by hotels. If you like to have more space, there are plenty of beachside resorts that allow guests a private oceanfront experience. However, if you're traveling to Costa Rica for sun-soaked beach days alone, it's best to take a trip after December when there tends to be more sun.
4. There are chances to see animals at all stages of life
Affordable hotel deals and national parks aren't the only reasons to travel to Costa Rica in the late summer. August is known as the month to travel to the country if you want to see a variety of species enter the world. Check out the Osa Peninsula to see baby turtles nesting. You can take a tour and get up close to the tiny turtles as they make their way through the sand to the sea for the first time. Take a boat ride through the Gulfo Dulce where you'll find humpback whales and their newborn calves swimming side by side. According to Conde Nast Traveler, turtle nesting season usually lasts until late November and baby whales are born through October.