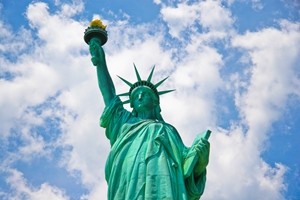 06/10/2014
It is perhaps one of the most famous landmarks in North America, if not the world. Featured in several books, movies and even videogames and heralded as the beacon of the New World by countless immigrants at the turn of the 20th century, the Statue of Liberty in New York City is one of the most iconic pieces of Americana around. If you want to enjoy a memorable family travel experience in the U.S., it may be time to book a trip to New York City to take in this must-see attraction.
A revolutionary history
in the U.S. in some ways dates back to the very birth of the country. Commissioned as a joint project between the U.S. and France to commemorate their alliance and good will during the American Revolution in 1776, the Statue of Liberty was meant to be constructed and assembled by French architects to commemorate the centennial celebration in the U.S. The statue and its base were publicly dedicated October 28, 1886, 10 years after the country turned 100.
During the early years of the 1900s when the U.S. saw an influx of immigrants from Europe, New York's Ellis Island was a major port of call for many venturing across the Atlantic Ocean, and the Statue of Liberty was there to greet them as they arrived at their new home in the U.S.
Paying Lady Liberty a visit
The Statue of Liberty is, understandably, a popular attraction for visitors to New York City, as the popular bronze lady plays host to roughly 4 million visitors every year according to New York Harbor Parks. Liberty Island is accessible by ferry, and is a delightful attraction in its own right. Once there, guests can decide how adventurous they're feeling. Purchasing a pedestal ticket will grant admittance to the statue's base where a museum, gift shop and additional information on the statue can be found.
If you're looking to get the full experience, you'll want to purchase a ticket to the statue itself. Those who aren't afraid of heights or a little physical exertion can climb to the very top of the crown. It's a hike of 354 stairs, estimated to take roughly half an hour. But once you get to the top, the experience of having climbed one of the world's most famous landmarks, not to mention the view of the beautiful New York City skyline, are more than worth it.
The National Park Service recommends reviewing the Statue of Liberty National Monument website before your visit for the most up to date information regarding operating status and hours of operation.