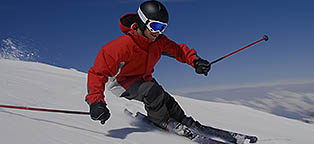 01/10/2018
The 2018 Winter Olympics are nearly upon us and the adrenaline of fans and world-class athletes alike is pumping. If you're lucky enough to make your way to Pyeongchang, South Korea, for the games this year, you're likely well on your way to planning your trip. With the excitement of the events, competitors and most-anticipated matchups, however, it can be easy to forget about the logistics of travel or that there is more to explore beyond the ski jumps. Before you pack your bags and cheer on the Olympic contenders, consider this travel guide.

Where to stay
As with any Olympics, booking accommodation in advance is highly recommended. While hotels are options in the bigger South Korean cities, motels are the most traditional housing choice for tourists, as explained in the Lonely Planet. Hanok Guesthouses - traditional wooden homes - are another popular way to get an authentic taste of local living, though these rooms are limited and tend to fill up fast.
It's important to note, however, that the beds in these guesthouses consist of padded quilts and mattresses on the floor. The good news is that during the winter, heated floor systems help to keep sleeping warm and cozy. Often, the bathrooms in these accommodations are shared. Korean locals are also known to rent out private rooms within their own homes, which they call minbaks.

Where to eat
According to CNN Travel, Odae Sanchae Nara is one of the best restaurants to dine at in Gangwon Province - especially for vegetarians and plant lovers. The culinary style is lots of small plates, filled with locally sourced vegetables and potato pancakes. Be sure to try the local rice wine, makgeolli. Keep in mind that traditional restaurants in this small town close on the earlier side. A favorite among locals in the region are "hanwoo towns," places that sell the popular Korean hanwoo beef, explained CNN Travel. Many of these culinary sites have self-service grills right on the premises that include kimchi and condiments so you can create your own Korean barbecue right on the spot.
A trip two hours east of Pyeongchang to the Gwangjang Market in Seoul is a must for foodies and aspiring connoisseurs alike. According to Mark Wiens' food and travel blog Migrationology, this massive marketplace - the oldest one in South Korea - is one of the best places to experience authentic Korean food and culture. When navigating through the maze of crowds and food vendors, be sure to try mayak gimbap - seaweed-wrapped rice balls filled with pickled vegetables. And don't miss biting into popular dishes like Korean blood sausage known as soondae, mung bean pancakes called bindaetteok and live octopus, noted Mark Wiens.
What to see and do
While the Winter Games are no doubt the main attraction, between the morning bobsledding event and the curling finals, South Korea has lots to offer in terms of adventure and sight-seeing. Rich with history and Buddhist charm, the palaces and temples of South Korea offer a glimpse of traditional life and religion. According to Travel + Leisure, Gyeongbokgung is the most grand of the Joseon palaces. A visit to the War Memorial of Korea and the newly opened Leeum, Samsung Museum of Art should also be at the top of your itinerary. Now you'll know where to dine, sip and spend your time during the Olympics or if you plan on visiting South Korea in the future.

Contact your travel insurance provider for further assistance and travel security advice.

The information contained here is provided by Brafton. AIG Travel assumes no responsibility for the use, accuracy, or interpretation of the information contained herein.