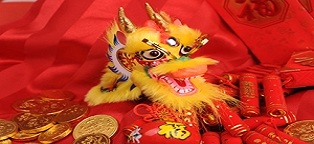 01/27/2017
The Lunar New Year is one of the biggest celebrations in all of East Asia and brings parades and public jubilation along with private family time. In 2017, the New Year falls on Saturday, January 28. This holiday is observed in China as well as in countries and cities with large Chinese populations. Following the cycles of the moon, each year is tied to a Zodiac animal, and 2017 will be the year of the Rooster.
As a visitor, the Lunar New Year offers an opportunity to see traditional Chinese customs up close, but by the same token may also be a way to beat the crowds. Many people reunite with family during the holiday, and congestion in the cities can be a little more relaxed. Here's what you need to know about the Lunar New Year:
What to expect
China Highlights cautioned that not only are many people traveling to see loved ones around the Lunar New Year, but there is usually a school break around this time. For that reason, it might be difficult to jump around between different cities. Trains and buses may be especially crowded, and tourists might not be able to book a ticket and find this experience very overwhelming. Individual urban areas may be less busy, but traveling will be more difficult. It's probably best to just pick one city to explore or to set travel plans far in advance.
Otherwise, expect plenty of energy and excitement during the Lunar New Year. Red and gold decorations will adorn homes and businesses and there are festivals, parties, parades and some of the world's largest firework displays.

How to celebrate
If you visit with friends or other loved ones, you may be invited to an intimate family "reunion" dinner. Here, children receive money and different regions have unique food and decorations. Food and Wine reported that many of these dishes are symbolic and include dumplings, uncut noodles, leafy vegetables, leeks and lots of fish.
Throughout the week there are different gatherings and celebrations. Some nights can be spent lighting firecrackers or showing off a new outfit, while others may be reserved for honoring ancestors or sweeping the home of bad spirits. In China's major cities, there are also plenty of parties and other events to celebrate.
The Lantern Festival
The week following the official Lunar New Year is full of celebrations and traditions. On the evening on the 15th day of the first lunar month, however, there's one last event that visitors won't want to miss.
The Lantern Festival always coincides with a full moon, and falls on February 11, 2017. Friends and family have another decadent dinner and once again there are fireworks to enjoy. What makes this celebration so special are the paper lanterns that are lit and let loose to gently fly away. This is one of the most beautiful and enchanting events around the world and is a fantastic end to the Lunar New Year holiday and your adventure abroad. Happy year of the Rooster and enjoy your travels!

Contact your travel insurance provider for further assistance.

The information contained here is provided by Brafton. AIG Travel assumes no responsibility for the use, accuracy, or interpretation of the information contained herein.