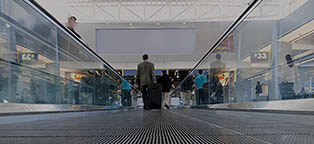 08/14/2017
Surprise! There's a term for that long weekend you took after your business trip, or the extra couple of days you scheduled for yourself after meetings in Paris: it's "bleisure travel" or combining business travel with a mini vacation or personal trip. And why not? As long as you are spending your free time visiting a city on your own dime, is there anything wrong with making that meeting in London become a weekend strolling the city?

A recent study conducted by the Global Business Travel Association (GBTA) in conjunction with Hilton Hotels aimed to create a profile of the bleisure traveler. According to the survey, 36% of North American business travelers have made a work trip their own at least once, after assignments have been completed. Travelers who fell into this category took, on average, seven work trips in the past year and work at companies with 950 or more employees. Additionally, it doesn't hurt that these individuals make $79,000 U.S. dollars or more, but are considered part of a "diverse" group of individuals distributed across the U.S. and Canada. Bleisure travelers often have families - 58% reported children at home - and on average will extend their trip three days. Most work in middle management, but 31% of respondents hold senior, C-suite positions.

Canadian bleisure travelers hail mostly from Ontario - at 52 per cent - and a further 15 per cent of these individuals live in Quebec. The study also found that millennials are the age group "most likely" to take bleisure trips.
Finding the most fun in a business trip
So how can you maximize your bleisure trip experience as an employee and how can your company set some rules for this travel? According a post on the  the GBTA blog, companies can establish rules for non-employees' expenses. It's likely that someone will accompany or join the bleisure traveler, on the leisure part of his or her trip, and the company should not have to foot the bill for the guest. Instead, those who make the company rules might have to add policies to their business travel guidelines.

Many bleisure travelers opt to stay in the same hotel for their leisure portion of their trip. It would be best for companies to inform these individuals of any corporate rates or loyalty programs at the time of booking. While the bleisure traveler may have to pay for his or her extended stay, there is a chance that he or she can still take advantage of perks or a corporate rate by choosing the same lodgings for the personal portion of the trip, according to GBTA.
Don't forget travel insurance
A bleisure traveler will likely be under his or her company's insurance policy, but the same protections may not extend to family members or guests who come for the leisure aspect. Be sure to check with human resources before departing, and let companions know if they must purchase separate travel insurance. It can be hard to reach the office when in a different time zone or over a weekend if a problem should arise, therefore, GBTA advises, take care of everything prior to departure.


Contact your travel insurance provider for further assistance.

The information contained here is provided by Brafton. AIG Travel assumes no responsibility for the use, accuracy, or interpretation of the information contained herein.