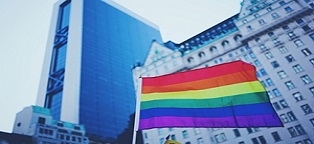 06/01/2018
If you plan on traveling in June for business or leisure, you picked an exciting time to do so because many communities are celebrating LGBTQ Pride throughout the month.
What is LGBTQ Pride Month?
A tradition that dates back to the 1970s, Pride month is recognized over the entirety of June in some cities across the U.S. and globally by paying tribute to members of the Lesbian, Gay, Bisexual, Transgender and Queer community for all that they contribute.
Although the original iteration of the celebration was Gay Pride Day, communities across the United States held parades, picnics, parties and festivals commemorating the Stonewall riots at various times in June, so the month as a whole has the "Pride" distinction. The Stonewall Inn was a 1960s gay bar based in New York City, U.S. in which the patrons resisted the constant harassment they'd experienced from other people.
More than 50 years later, the LGBTQ movement has come a long way, as have Americans' sentiment about the fundamental rights LGBTQ members deserve. According to a recent poll conducted by Gallup, 67 percent of Americans support same-sex marriage, an all-time high that dates back to 1996. At that time, only 27 percent of respondents were in favor of same-sex marriage. An estimated 4.5 percent of the population identifies as lesbian, gay, bi-sexual or transgender, based on a separate Gallup survey that queried 340,000 Americans.
Despite the substantial strides for the gay community within some countries, more than 70 countries around the world consider homosexuality to be against the law, according to the International Lesbian, Gay, Bisexual, Trans and Intersex Association. This explains why more than 95 percent of LGBT travelers cite discrimination as their biggest fear while overseas, according to a poll from the Gay Ad Network.
1. Do your homework
Talk to friends who are familiar with the places you plan on visiting to get their take on local's views toward the LGBTQ community, especially if they used to live in the area or stayed there for a while. You might also want to research survey results to get an idea of societies' opinions on various lifestyles. For example, same-sex marriage is legal in 26 countries, including South Africa, Sweden, Spain, Brazil, Germany and France. Many countries legalized it before the U.S. did in 2015.
2. Consider applying for a visa as individual
If you are traveling as a same-sex couple and need to apply for a visa, you may want to apply for one as a single person. This step can potentially spare you from running into issues with border and immigration enforcement protocols.
3. Be cognizant of your surroundings
If at any time you feel harassed or attacked, remove yourself from the situation as quickly as possible. Confrontations rarely end well and can quickly spiral out of control.
AIG Travel recognizes the need for greater awareness regarding safety for LGBTQ business and leisure travelers and developed resources to support and assist them. Please visit www.aig.com/travel/lgbtq for more travel tips and advice.
Contact your travel insurance provider for further assistance.
The information contained here is provided by Brafton. AIG Travel assumes no responsibility for the use, accuracy, or interpretation of the information contained herein.