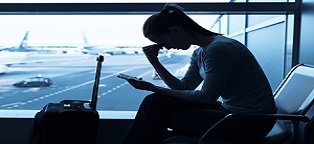 07/10/2019
When planning for your business trip, the last thing you want to think about is the possibility of becoming sick or injured. While you can't be prepared for everything, it is important to be aware of potential injuries and exercise good judgment. That's why we put together this list of the top 10 causes of injuries and health issues while traveling to give you a sense of common activities and actions (or inaction) that could throw your trip into a tailspin:
Operating recreational vehicles: While traveling, you might want to try getting around on new modes of transportation such electric scooters, bicycles or Segways. More and more cities are offering e-scooter and bicycle rentals and you might decide to hop on for the convenience of zipping around. Remember to follow road safety precautions, be aware of your surroundings, and refrain from taking pictures or using your phone while driving.
Overindulging in alcohol: It's still important to drink responsibly, even when you're on a trip, in order to prevent alcohol-related injuries or hospitalization. Otherwise, you may lose your balance and judgment, potentially causing you to trip and fall or, worse yet, be involved in a motor vehicle accident. In addition to monitoring intake quantity, you need to be mindful of what you are drinking. Do not leave your drink unattended or accept a drink from someone if you did not see it being prepared. 
Pushing your physical limits: While visiting a new destination, you might feel inspired to go outside of your comfort zone during your downtime and try a challenging athletic activity or go jogging in an unfamiliar area. It's important, however, to remain aware of your physical and health limitations. If you have chronic back pain, it might not be the best idea to try and go jogging on rugged terrain in a new city.
Tripping and falling while boarding or leaving public transportation: Have you ever noticed those "mind the gap!" warnings on train or subway platforms? Travelers who are not paying attention can frequently be injured when stepping on or off trains. Other public transportation mishaps include falling and tripping while stepping down from buses, trams, ferries or cars. Don't rush and/or be glued to your smartphone while transferring in order to avoid being injured while getting around on public transportation.
Take selfies safely: Business travel might take you to new and exciting locations and you might be inclined to snap some social media-worthy photos or selfies during your downtime. The popularity of selfies has risen rapidly, but sometimes that perfect pose comes with a great risk to self and others. Take note of the surrounding area, especially if it is unfamiliar. Look out for caution signs and take heed of the given warnings. Only take pictures on steady ground, ensure footing is firm and avoid ledges, drop-offs or other potentially problematic areas.
Exposing yourself to illness: If you're feeling weak or tired from illness, you may be more likely to have an accident during your business travels. Also, getting sick during a business trip or right after returning home is the worst, so when traveling, be sure not to let down your guard and throw simple hygiene tips out the window. One of the most basic precautions you can easily practice during your travels is to wash your hands often with soap and water. If soap and water are not available, use an alcohol-based hand sanitizer. Refrain from touching your eyes, nose and mouth and avoid or limit contact with people who are sick.
Ignoring chronic health conditions: Even though you are far from home on business travel, your chronic health conditions won't temporarily go away. Pack, in your carry-on or personal bag, a double supply of any medication in the original container with a copy of the prescription, as well as any special medical ID bracelets or tags. And of course, don't forget to actually take your medication on the schedule recommended by your doctor and adhere to medical-related dietary restrictions.
Neglecting situational awareness and pedestrian safety: If you are getting around on foot in a new city, you might be tempted to look down, while in motion, as your smartphone's map is guiding you. However, this might lead to accidents. In some cities, pedestrians do not have the right of way and motorists in certain countries drive on the opposite side of the road. In cities where bicycles are prevalent, averting your eyes from a bike lane for even a few seconds may be harmful. Be aware when stepping off of curbs since they can be much higher which may lead to twisting your ankle if you're unaware that there's a 12-inch drop.
Eating food not properly prepared: It might be hard to refuse food or fresh juice from a street vendor if you're in a hurry, but you have to remind yourself that a bad case of stomach pain or other food-related illness can ruin an entire business trip. Avoid pre-cooked foods that have been left out at room temperature and don't forget that in many countries, the tap water isn't safe to drink. Make sure that all bottles or cans are unopened and factory-sealed. One of the greatest pleasures of traveling is sampling different foods. If you make the right choices, you can have a great dining and drinking experience and stay healthy at the same time.
Unhealthy eating habits: Business travelers might follow a less healthy diet away from home. In many cases, the traveler is in a business or social situation where they will need to pick from a limited restaurant menu that has a higher fat and salt content and drink socially. Over time this might lead to obesity, high cholesterol, and an overall sense of poor health. Try to stock up on fresh fruits and healthy snacks from a nearby deli or grocery to keep in your hotel room. Eat and drink in moderation.
Contact your travel insurance provider for further assistance.
Sources:
https://www.nytimes.com/2017/11/27/business/business-travel-health-problems.html
https://hbr.org/2018/05/just-how-bad-is-business-travel-for-your-health-heres-the-data