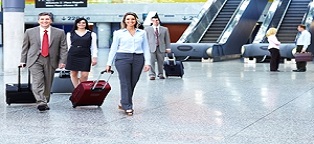 01/07/2019
If you travel frequently for business, you know that some cities are more conducive to professional travel than others. Ever wonder what areas are the most popular destinations for business trips? Check out this list of top spots known for playing host to professionals on-the-go. 
New York City
It's no surprise that NYC, one of the world's largest and most diverse cities, attracts tons of business travel. Since it is home to two major airports, which operate numerous international flights, it's only natural that the Big Apple would become a staple work trip destination for business people around the globe. JetBlue, headquartered out of New York, improved their business features on its flights between NYC to cities on the west coast. Known as JetBlue Mint, it provides business customers with mini suites, premium menu choices, and preferred bag claim.
Paris
France's capital city has long been known as a bustling center of business and culture. For both European professionals and international workers, Paris is a top destination for business travel. An average business traveler spends $502 during his or her professional stay in the City of Lights, most of which is dedicated to lodging and entertainment, reported Expert Market.
Toronto
The Great White North is home to many world-class cities, but Toronto is by far the most popular when it comes to business travel. Toronto's Pearson International Airport offers service to major cities all around the world, including Sydney, London and New York. Air Canada's business class, which has some of the best entertainment options available in the airline world, is often a major draw for professionals on-the-go. 
Mexico City
As more infrastructure heads for Mexico, Mexico City is becoming a major player in the international business travel game. Conde Nast recommended that professional travelers stay at the Las Alcobas hotel, which caters to people on business trips. Business travelers headed to Mexico City should explore business class options provided by Aeromexico.
Contact your travel insurance provider for further assistance.
The information contained here is provided by Brafton. AIG Travel assumes no responsibility for the use, accuracy, or interpretation of the information contained herein.
Sources:
1. https://www.egencia.com/public/us/egencia-confirms-new-york-outranks-london-as-top-business-travel-destination