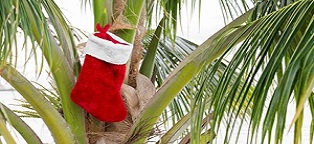 12/11/2017
During the period between Thanksgiving and New Year's, business travelers comprise only 7 to 8 percent of all of those heading out of town during this time according to the U.S. Bureau of Transportation Statistics. The rest of the year? Those who are mobile for work-related purposes are responsible for 17 percent of travel. Yet while you may be in the minority, the stress can set in, especially when airports, train stations and the roads are more crowded with less-experienced travelers. Instead of feeling frustrated this year, there are some simple strategies you can employ as to not enhance the difficulty of being on the road for work. Here are a few ideas to make holiday business travel go smoothly:
Take care of yourself
Meditate for a moment while waiting in line. Keep breathing. And remember to drink up, Inc. magazine stated - water, that is. Staying hydrated is key to feeling balanced and normal. For one or two of those tipples, throw in some vitamin C powder or just remember to take your vitamins. No one wants to get sick on the road at any time of year, and with a greater amount of people around, the chances of contracting illness are higher.
Consider all your airport options
Getting from point A to point B as quickly as possible is always the goal. It may, however, be more efficient to fly into a smaller, nearby airport rather than your usual hub, according to American Express. Look a bit further afield from the major airports, which will likely be overrun with people during the holidays; the crowds will slow you down further and may pile on the stress. A smaller location will likely see less traffic and, in some cases, may be cheaper to fly into. If that's the case, you can rent a car and drive to your meetings or where you need to be, should this be located in closer proximity to your final destination. And it may turn out that a regional location is actually better for efficiency in the long run.
Plan ahead
Now is the time to check in online, said the source, and remember to pack lightly. This means you need to plan ahead before you leave - no last-minute cramming business clothes into a suitcase! By securing your seat and confirming your flight before arriving at the airport, you save precious time and avoid lines. Same goes for packing light. No one wants to check a large suitcase, wait around to get to the counter and then wait again to retrieve luggage. Be smart and treat business travel at this time of year as an experience in minimalism. With a bit of foresight and the willingness to try something new, business travel at the holidays need not be stressful. In addition, your seasonal strategies may end up working better than what you have been doing before, meaning work-related excursions can run more smoothly for the rest of the year.

Contact your travel insurance provider for further assistance and travel security advice.

The information contained here is provided by Brafton. AIG Travel assumes no responsibility for the use, accuracy, or interpretation of the information contained herein.