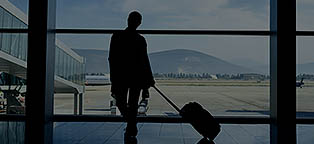 02/01/2018
As any business traveler knows, there are a number of unforeseen circumstances that can impact getting where you need to be on time. In 2013, a U.S. government shut down that lasted over two weeks cost the economy $24 billion dollars, closed access to national parks and placed thousands of government employees on furlough, Newsweek reported. The effects of this gridlock can trickle down to a number of U.S. government agencies such as postal services, loans, health care, travel and taxes. 
Though the event of a government shutdown is infrequent, it's important to know how one would impact your travel:
Passports and visas
During the last stalemate in Washington, 800,000 employees deemed "non-essential" were furloughed, Newsweek noted. As a result, a number of agencies were forced to shutdown, especially ones with a lack of funding. One service that you should anticipate delays with is passport and visa offices, USA Today reported. As a branch of the U.S. State Department, visa and passport services do not run on money from Congress. Funded in part by fees, these services generally operate during a government shutdown until the money runs out. There are a number of reasons your business may need expedited passports or visas, from hiring new employees to traveling abroad for meetings and conferences. The best thing to do is plan ahead and in the event of a stalled Washington, send those applications in as soon as possible.
The U.S. Capitol
The city perhaps most impacted by a shutdown is Washington, D.C. itself. As Reuters explained, the government administration has stated that more than half of all White House staff members would be sent home. In the past, museums and tourist sights in the city have been closed. Most of the individuals employed at these landmarks are not considered essential federal personnel and, as a result, would likely be placed on furlough. 
Financial dealings could be impacted on a national level, which may interfere with business meetings and deadlines. With the dawn of a shutdown, the Securities and Exchange Commission has said that it would remain open initially. From there, it would move forward depending on funds. And while a large percentage of employees at the Commodity Futures Trading Commission would be placed on furlough, if an emergency financial market situation arises, there is funding to bring on supplementary staff, Reuters reported.
Air travel
As Travel + Leisure explained, the Transportation Safety Administration agency and air traffic controllers are among the government agencies and employees deemed essential. In most cases, the national transportation system will remain open and air and train travel should remain relatively unaffected. Border security agents and immigration enforcement officers are also among the essential federal employees. 
Contact your travel insurance provider for further assistance and advice.

The information contained here is provided by Brafton. AIG Travel assumes no responsibility for the use, accuracy, or interpretation of the information contained herein.