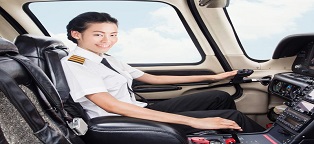 03/01/2018
From Lewis and Clark to the Wright Brothers, you were likely taught all about the first explorers and pioneers as early as elementary school. While Amelia Earhart may have made it into one of your lessons, so many of the great travelers are often left out. Though they may not have made the history books, female adventurers have been exploring new lands, breaking barriers and setting new records as the "first" for centuries. In celebration of Women's History Month in March and International Women's Day on March 8, get to know these inspiring women who broke the glass ceiling of travel:
Bessie Coleman
Just like so many other women in so many other fields, Bessie Coleman was one of the courageous and bold females who left her mark on travel - a livelihood, a passion and a pastime that for so long prohibited women, Conde Nast Travel explained. From the beginning, the odds were against her. Born in Texas in the 1890s, Coleman was one of 12 children. Determined to get an education, she walked several miles to school each day and spent the rest of her time working in the cotton fields to make money.
Despite her hard work, Coleman was banned from entering aviation school in the U.S. because of her gender and the color of her skin. Yet that still didn't stop her. As Conde Nast Travel explained, she uprooted to France and became the first African American woman to gain a pilot's license from the Federation Aeronautique Internationale. Back in the U.S., she was still prohibited from working as a pilot. Instead, she made her living performing in air shows.
Nellie Bly
When her editor at the newspaper turned down her idea for beating the fictitious record of racing around the world in 80 days - saying he would have to send a man instead - Nellie Bly took off in pursuit of her goal, according to The Guardian. Just 72 days later, the female journalist made history when she arrived in New York Jan. 25, 1890. Not only did she surpass the idealistic record of the male traveler, but Bly did so with just the set of clothes she set off in and a small bag.
Cassie De Pecol
Even in the year 2016, female traveler Cassie De Pecol faced a number of challenges traveling the globe, though that didn't stop her from becoming the first female to visit all 196 sovereign nations in a record amount of time, CNN Travel reported. While traveling to each country on earth, De Pecol shaved off more than 50 percent of the time it took the previous world record holder, completing her trip in 18 months and 26 days.
Karin Stahre-Janson
In 2007, mariner Karin Stahre-Janson became another woman pioneer in a male-dominated marine and cruise captainship industry, Cruise Critic reported. Named the first female captain of a major cruise line, Stahre-Janson had spent the previous decade working her way to the top in a number of C-level roles. Between her childhood passion for being on the water and her past experience working in a field designed for men - on petroleum and chemical tankers in cargo shipping - she was meant to sail beyond the barriers.

Contact your travel insurance provider for further assistance.

The information contained here is provided by Brafton. AIG Travel assumes no responsibility for the use, accuracy, or interpretation of the information contained herein.