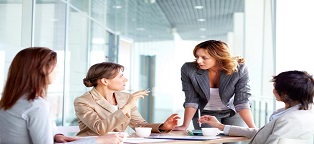 03/01/2018
Check out these women forging new paths in the business travel sector in celebration of Women's History Month in March and International Women's Day on March 8. While the numbers vary, most companies in the travel industry lack women at the top executive level. Travel Weekly reported that Disney management is made up of just 14 percent women, the executive committee of Hilton Worldwide is 8 percent female and at Las Vegas Sands, women make up just 4 percent of C-level positions. In recent years, women have gained more leadership roles and progress is visible at companies like American Airlines, for example, where females comprise 33 percent of the executive team.  
Michelle Lee
Michelle Lee established Women in Travel in 2014 to reach the goal of creating a platform for fostering conversation and awareness to help women succeed in the travel industry, according to Travel Weekly. Made up of both men and women, the organization provides resources that support and drive female leadership. The idea was the direct result of lack of representation within the field that Lee experienced firsthand. "I've been in the travel industry for almost 30 years," Lee told Travel Weekly. "As I progressed in my career and the more senior I became, I noticed how many less women there were in the room."

Susan Eckert
Established in 1982, Adventure Woman was one of the pioneer female-founded companies in the travel industry, according to Go Overseas. A former volunteer with the Peace Corps, Eckert wanted to establish a community for females over the age of 30 where they could comfortably explore the world without the cultural limitations she herself recognized.
Belinda Johnson
Serving as the chief business affairs and legal officer at Airbnb, Belinda Johnson began her career at the company as the first general counsel in 2011, Mashable reported. Recognizing the impact she could have, Johnson found her way to the founders of the home rental start-up and demonstrated her strengths and perseverance. She has since designed nearly the entire legal department at Airbnb. Her advice to others is that persistence and self-motivation are key for succeeding as a female in the world of travel and tech.
Caroline Strachan, Sam Cande and Ami Taylor
Though each of these three women hold important roles within the industry - Taylor is the global head of rail at Concur, Cande is UK country manager at Traveldoo, an Expedia Inc. Company and Strachan is managing partner at Festive Road - it is the social movement they have founded together that may be most powerful. The Business Travel Magazine reported that the trio founded LEVEL Women in an effort to promote more women in the field. Citing the fact that though women are frequent travelers and make up more than 70 percent of all travel agents, less than one fifth of executives in business travel are female, the leaders hope to create real change.
Barrie Seidenberg
CEO of Viator, a company of Trip Advisor, Barrie Seidenberg is an example of women empowering women. In her tenure as president and CEO spanning more than 10 years, Seidenberg has fostered an inner management circle of 70 percent females, Mashable reported. Though she credits the company for having a level playing field when she arrived, she believes the balance is great.
Emily Merson
Co-founder and CEO of Global Experiences Emily Merson is confident that working abroad can be instrumental in professional and personal development, according to Go Overseas. The company which places interns around the globe began when overseas travel for young students was still new. The company has since soared in its more than three decades of experience.


Contact your travel insurance provider for further assistance.

The information contained here is provided by Brafton. AIG Travel assumes no responsibility for the use, accuracy, or interpretation of the information contained herein.