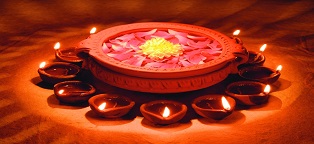 10/02/2017
Fall travel is an underrated activity. Most people want to vacation in the summer whenever they can, and others pick colder months for winter activities and holidays. However, October is one of the best months to travel internationally, whether taking short U.S. travel jaunts to see the foliage or going overseas. In particular, Asia travel and South America travel at this time of year can put you in the epicenter of some incredible cultural celebrations, so book that ticket and enjoy these wonderful October holidays happening abroad.
Festivals aplenty in India
Starting at the very beginning of the month, travelers can expect to participate in India's October festivals. According to the Telegraph, the party starts Oct. 1 with Navaratri, which honors a selection of goddesses revered in India. Those planning to visit Gujarat, Maharashtra and Mysore can expect celebrations running until October 9. Later in the month, and a holiday worth planning Asia travel around, is Diwali, the festival of lights. This holiday lasts five days and citizens participate in revelry all across the country. Traditionally, observant Hindus will light oil lamps, according to the source, and also exchange gifts. The lights are said to help guide home Lord Rama from exile; thus, everyone will help him find his way. There is much excitement and partying and many people take time off work, so be ready to join the fun!
Honoring memories in Mexico
La Dia de los Muertos, or "the Day of the Dead," is observed in Mexico from October 28 to November 2, according to Travel + Leisure. With many colorful decorations and unique cultural nuances to encounter,  travel to this country will be a rare experience for those who visit at this time of year. It gives participants the opportunity to remember loved ones, but the occasion is not overly serious or mournful, the source noted. The intention is for Dia de los Muertos to be a time of peace and reflection, not sadness. It gives families a time to remember relatives and loved ones, tell stories and be together.
Visitors to Mexico City can expect to see flowers everywhere decorating everyone and everything, and on November 2 some residents visit their relatives' graves and adorn them with flowers as well. As for foods associated with the holiday, the source added that travelers may want to try pan de muertos, or bread of the dead, which is a sweet, puffy orange confection. Tamales are another food tourists may encounter during this time, and they will be likely served with atole, a corn-based beverage.
No matter where you go in October, you're likely to have an adventure. However, if you want a more special experience and to truly learn about a different culture's celebrations, time your trip abroad around a special holiday this year. You may discover something surprising, something different and something to incorporate into your own traditions as well.

Contact your travel insurance provider for further assistance.

The information contained here is provided by Brafton. AIG Travel assumes no responsibility for the use, accuracy, or interpretation of the information contained herein.