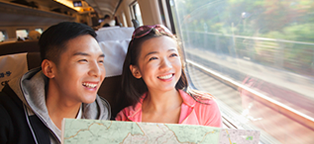 04/09/2018
Do you ride your bike to work or take part in ride-sharing services in your hometown? Are you consciously and consistently engaging in environmentally friendly practices? If so, why not continue going green when traveling for business? When we celebrate Earth Day on April 22 this month, consider how you can continue your environmentally responsible habits when flying across the pond for your next business meeting. Try to implement the following practices in your business travel to be more sustainable:
Consider your means of travel
Your carbon footprint could very well depend on what method of transportation you choose. Forbes contributor Kate Harrison reported that trains and buses often have less of an environmentally harmful impact than other means of travel and are as much as 90 percent more carbon efficient than airplanes.
If you must fly, do your best to book a non-stop flight. The majority of carbon emissions are created when planes are landing and taking off so opting for a direct flight is the most environmentally friendly option, according to Green Global Travel.
If traveling with co-workers, consider sharing a car or ride service upon arrival. This can minimize emissions and proves to be the most sustainable choice, unless of course you all choose to walk or rent bikes to get to and from meetings.
Select sustainable accommodations
It's probably unsurprising to see an astronomically high figure representing the thousands of gallons of water used in washing hotel towels. However, you may be shocked to know that the smallest reminder on a card placed in hotel rooms to reuse towels has been shown to have the potential to save up to 72,000 gallons of water per 150-room hotel annually, according to The Scientific American. Reporting on figures from the Economically Sound website, this practice can also conserve 480 gallons of laundry soap each year. 
Using solar power, reducing hot water use and adopting other environmentally conservative practices is growing more and more popular throughout hotel chains. When booking, be sure to ask how hotels embrace these sustainable initiatives. 
Continue your recycling efforts
Just because you are in a rush or on-the-go in a foreign city doesn't mean your recycling efforts should go down the drain. Though establishing where to put your plastics may take an extra moment or two in a new metropolis, doing so is important. Better yet, say no to plastic altogether, especially when traveling, National Geographic advised. Bring your own reusable water bottle or only purchase locally purified water sold in glass bottles. Avoid plastic bags by bringing your own small cloth bag or tote in your carry-on.
Support local 
No matter where you travel, supporting local is the most responsible and sustainable option. As Green Global Travel advised, consider inquiring what percentage of your chosen hotel's staff are local. Sourcing food from local farmers is another plus. If you do have extra time to explore in between or after business meetings, consider only selecting tours from community-based tourism and local guides, Roaming the Americas explained. Not only does this support native and community members, it also gives you the most authentic experience as well.