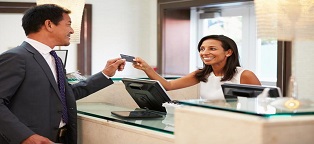 07/12/2018
Every single person has his or her own preferences while traveling in terms of booking, accommodations, productivity and leisure. When it comes to business travel preferences, there is more of a generational divide. Since traveling for a company may increase overall satisfaction for its employees, a recent study by the Global Business Travel Association (GBTA), in partnership with American Express Global Business Travel titled, "Traveler Satisfaction: Exploring the Generational Divide in Business Travel," sought to understand what drives and impacts travel satisfaction for business travelers based on their generation.
Within the baby boomer generation - travelers aged 55 years old and older - there were significant differences in terms of booking, tracking and reporting, productivity and personal life during travel when compared to millennial and Gen X travelers. Let's take a closer look at the analysis of frequent baby boomer travelers:
Booking
When it comes to booking travel arrangements for a personal trip, travelers are expected to find flights, rent private cars or taxis and book all other accommodations on their own unless working with a travel agent. For most business travelers, companies will offer help and insight through a travel management system. Based on the impact vs. overall satisfaction with booking, here's how the boomers reported:
• Flexibility to plan a business trip - 80 percent impact, 88 personal overall satisfaction
• Taking a taxi or private car - 61 percent impact, 75 percent overall satisfaction
• Booking travel through company's Travel Management Company (TMC) - 60 percent impact, 62 percent overall satisfaction
Productivity during travel
Getting through airport security is often irritating for travelers. For business travelers who find themselves at the airport frequently, it can be even more frustrating. This makes utilizing tools like Global Entry or TSA PreCheck important and can drastically improve the business travel experience. Based on the overall satisfaction with productivity during travel, here's how the boomers reported:
• Global entry - 80 percent impact, 88 percent overall satisfaction
• TSA Pre-check - 80 percent impact, 90 percent overall satisfaction
• Getting through airport security - 75 percent impact, 59 percent overall satisfaction
As you can tell, boomer travelers show a positive reaction to their access to such tools.The report stated that boomers were more worried about being able to do their jobs while traveling, so having access to Wi-Fi was more important than saving time going through airport security.
Oftentimes, companies send employees on business trips without considering their personal preferences. Furthermore, they don't know the wants and needs of employees that differ by generation. When these businesses look closer and peel back the layers of generational preferences, they can find what drives satisfaction in terms of travel and work on making improvements to their own company business travel plans. This in turn may reduce employee turnover, improve engagement and enhance overall satisfaction felt by employees in their positions.