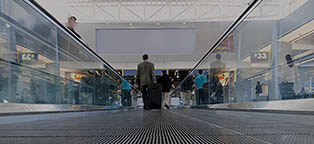 12-19-2017
Every business traveler has smartphones, tablets, other devices that make electronic communications easier, but does every person who hits the road for work have smart luggage? Perhaps not. If you are not familiar with the concept, your smart suitcase most likely has a USB port where you can charge those devices so you're never out of touch according to Business Insider. Said high-tech bags may include motors and tracking systems, presumably to let you know where the item is at all times. However, the problem lies not with the technology but the equipment itself; lithium-ion batteries may spark fires on the aircraft, and so many airlines will be cracking down on this smart luggage come 2018.
Leave the battery-powered suitcase at home
According to Business Insider, the non-removable batteries are cause for concern. Many so-called smart suitcases don't give users the option to take them out. And while it is important that you can work from 30,000 feet in the air, it's absolutely necessary that airlines ensure the safety of all passengers to the best of their abilities. So far, American Airlines has already banned these bags; Alaska Airlines, Delta United and Southwest Airlines may be next.
How do you know if your laptop has the same kind of batteries? Well, aviation officials are more concerned about the checked luggage in the belly of the plane, according to Forbes. If a fire were to start in the main cabin, flight attendants would be able to extinguish the blaze. Underneath the plane, this just isn't possible. To avoid the potential for accidents, it's better to be safe than sorry.
What are the other complications?
While you may be able to fly business class for work, this is not guaranteed. Forbes stated that the concern about these smart bags comes from the fact that more airlines now offer basic economy fares. These prices don't often include a checked bag or ensure that you will have space in the overhead bins. This means your luggage goes in the hold, perhaps even at the gate. If the technologically sound valise ends up under the plane, that's not an ideal situation.
A better alternative
Yes, smart luggage is cool, and yes, you need to be able to communicate with co-workers and get tasks done on the plane or while waiting at the gate. Yet many airports now offer standing charging stations where, at the very least, it is possible to plug in your phone and answer emails or take calls. Some airports also have lounge-like facilities with space to sit down and spread out. Better yet, if you have been waiting to approach your boss about joining an airline club, now might be the ideal time. Most of the major carriers have premium facilities or clubs to those who opt in, which can entail a place for food, drinks and - most importantly - somewhere to sit and get work done with other business professionals.
Whatever you decide to do, it is useful to know about the smart luggage ban, especially before the new year, a new quarter and a new slew of travel opportunities hit. There are plenty of alternatives to this technology and you should be able to get work done in a timely fashion, no matter where you are.
Contact your travel insurance provider for further assistance and travel security advice.

The information contained here is provided by Brafton. AIG Travel assumes no responsibility for the use, accuracy, or interpretation of the information contained herein.