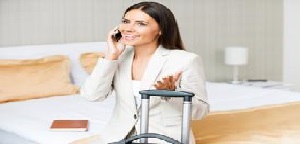 01/01/2018
While professionally stimulating, exciting and often fulfilling, business travel can take a toll on even the most seasoned jet-setter. However, with a few modifications, you can make your regular travel for work more convenient and healthy. This year, resolve to improve your health, wellness and time management with these goals for business travel.
Invest in your travel luggage and gear
If you travel frequently for business, or plan to in the coming year, your first priority should be to invest in durable, quality luggage that is easy to carry and maneuver. There is nothing worse than rushing to board a flight while struggling to drag your suitcase with the broken wheel through the throngs of travelers at the airport. Similarly, when time doesn't allow a stop at the hotel to check in before your first meeting, you want to look professional and that means having simple, sleek and understated luggage.
An upgrade in luggage can help you in other ways as well. Today, there are even suitcase technologies that send you location details through Bluetooth in the event of lost luggage, explained AmTrav. Other tech-savvy baggage has the capability to charge phones and laptops, or even weight itself, another plus for business travelers always on-the-go.
Avoid indulging on business travel
When traveling to a new city or country and staying in hotels, especially if the weather is nice, it can be easy to get a little taste of vacation mode. If your work schedule has you flying to a new place every week or even twice a week, it's important to keep your "vacation habits" in check and eat and drink as though you are on a regular schedule and routine. While this doesn't mean you can't enjoy yourself, it's wise to make smart and healthy decisions when dining out multiple times each week.
As Sean Flynn, Senior Web Producer at Travel + Leisure said, you can still enjoy local cuisine of a new place without overindulging. Taking a look at the menu before a business lunch or client dinner can give the advantage of choosing the healthiest option or even calling ahead to ask if the chef can do modifications.
Join all travel programs and initiatives
Any smart business traveler knows the power of frequent flyer miles. As a regular business traveler, you've no doubt collected your share of points and miles over the years. Taking into consideration the airlines you fly could contribute to your potential of earning elite status with an airline. When your flights are all over the place, earning points on a number of different airlines, however, you're losing out on great benefits.
Another great thing about elite status - at hotels and airports - is that it can often help you save time checking in and out. One of the best ways to shave time from your weekly commute - is to apply for TSA PreCheck, according to Forbes contributor Michael Alpiner. Applying for this program requires an in-person background check, but once you are approved, you can fly through airport security and bypass the long line next to you. This will help cut significant travel time from your schedule.
Updating your travel regime with these few tweaks could yield big results both professionally and personally in 2018.

Contact your travel insurance provider for further assistance and travel security advice.

The information contained here is provided by Brafton. AIG Travel assumes no responsibility for the use, accuracy, or interpretation of the information contained herein.