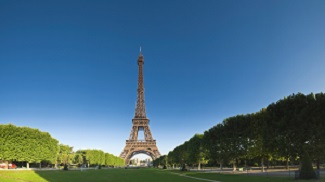 12/05/2019
The world is full of fascinating travel destinations to explore, which can make planning a vacation quite challenging. Whether you're a nature enthusiast or obsessed with ancient monuments, there's no shortage of must-see locales to choose from. While you may have a bucket list already drawn up, there are likely hundreds of amazing experiences you haven't considered. To help you find vacation spots that pique your particular interests, we've put together a list of the top travel destinations every vacationer should visit. That said, each traveler has different preferences and expectations, so be sure to do your own research and create a personalized itinerary before booking your next trip.
1. Paris
As one of the largest European cities, Paris boasts a truly massive array of unique travel experiences, historic landmarks and world-class restaurants. This vacation hot spot ranked #1 on U.S. News & World Report's list of the World's Best Places to Visit, which is no surprise considering how much there is to explore. From the moment you arrive at the Paris Charles de Gaulle International Airport, you'll be immersed in classical architecture, centuries-old churches and a distinctly Parisian atmosphere.
The City of Lights is home to dozens of top-notch art museums, galleries and botanical gardens, including the famous Musée du Louvre and Musee d'Orsay. Travelers with an eye for fashion can weave through the designer shops lining the Champs Élysées, or poke around smaller boutiques in Le Marais. While many vacationers may be familiar with Paris' most popular landmarks, such as the Arc de Triomphe, the Eiffel Tower and Notre-Dame Cathedral, there are plenty of other breathtaking sights you won't want to miss, including:
Seine River
Versailles Palace
Pere-Lachaise Cemetery
2. Phuket
Vacationers interested in a tropical getaway will adore the white sand beaches and crystal waters that surround Thailand's southwestern island of Phuket, located on the fringes of Southeast Asia. This budget-friendly vacation destination is well-suited to adventurous travelers who enjoy outdoor activities, as there are countless natural and manmade wonders to explore. Visitors can hike along Phuket's towering limestone cliffs, swim in the cool waters of the Andaman Sea or take a day trip to the peak of Mount Nagakerd, where a massive Buddha statue overlooks the island.
Phuket is known for its numerous Buddhist sites and authentic local cuisine, which give this vacation hot spot a truly unique charm. If you're looking to kick back and relax, the island has dozens of pristine waterfronts to choose from, including Nai Harn, Kata Noi and Patong. Another must-see locale is Banana Beach, located 30 minutes outside of Phuket, which was included in Conde Nast's list of the Best Island Beaches in the World. Other must-see travel sights include:
Wat Chalong Temple
Soi Dog Foundation
Promthep Cape
3. The Grand Canyon
One of the best budget-friendly travel experiences in the U.S. is to take a road trip to Grand Canyon National Park, located in northern Arizona. Named a UNESCO World Heritage site in 1979, this popular vacation spot is a common staple on expert travelers' bucket lists, and for good reason. The Grand Canyon is considered one of the seven natural wonders and features some of the most breathtaking sights in all of North America, many of which are located on its Southern Rim. Most travelers visit the Grand Canyon Village to learn more about how the 277-mile ravine was formed, or enjoy a relaxing lunch at one of the dozens of viewpoints along the canyon
What makes this top travel destination so appealing is that vacationers can chart their own course, allowing families with small children and hiking enthusiasts to get the most out of their trips. From trekking up Bright Angel Trail to biking along Hermit Road, there's no shortage of once-in-a-lifetime experiences to enjoy. What's more, almost every outdoor activity allows travelers to survey the majestic landscape and take plenty of photos. Some other notable sights include:
Havasu Falls
Grand Canyon Skywalk
South Kaibab Trail
4. Dubai
Dubai is the largest city in the United Arab Emirates and is home to some truly amazing architectural achievements, making it one of the most unique travel destinations in the Middle East. This massive metropolis is nestled between the Persian Gulf and the Arabian Desert, offering vacationers plenty of unique landscapes to explore. That said, most travelers spend their time in the heart of Dubai, which is packed with activity centers and tourist attractions, such as the 13-million-square-foot Dubai Mall, the traditional Gold and Spice Souks and the Wild Wadi Waterpark.
This vacation hot spot is best known for its record-breaking skyscraper, the Burj Khalifa, which is currently the tallest building in the world, according to Business Insider. Tourists looking for a more laid-back atmosphere can lounge on the warm sands of Jumeirah Beach, take a stroll on Palm Island or enjoy the air conditioned Dubai Museum. Keep in mind, the UAE's broiling summer climate can be quite overwhelming, so the winter months are usually the best times to visit. Other must-see attractions include:
Ski Dubai
Dolphin Bay
Dubai Miracle Garden
For more top travel destinations, read through some of our other useful travel tips and vacation blogs.
Sources:
https://travel.usnews.com/rankings/worlds-best-vacations/
https://whc.unesco.org/en/list/75/
https://www.cntraveler.com/galleries/2015-02-24/top-10-most-beautiful-island-beaches-hawaii-australia
https://whc.unesco.org/en/list/75/
https://www.businessinsider.com/the-tallest-buildings-in-the-world-2015-12#1-burj-khalifa-22