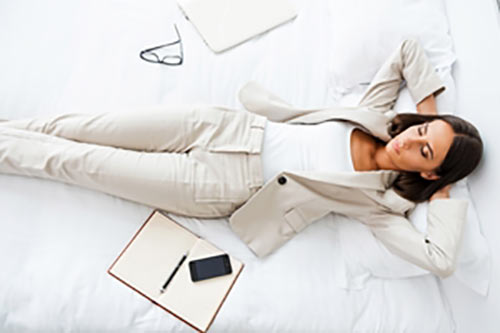 9/28/2020
No matter where or why you might be traveling, unless it's for less than a day or you have severe, incurable insomnia, you'll have to sleep somewhere for at least one night. Lodging and all the experiences that come along with it can give your vacation or business trip some of its best and most idiosyncratic moments - or some of its lowest possible lows. It's up to you. (Of course, the poor practices of a hotel wouldn't be your fault in any way, but if you have a bad experience you'll be kicking yourself for not being more careful during your search process.)
Fortunately, you won't run into any problems if you follow a handful of simple but crucial best practices. Most of these will be handled in the planning stages of your trip - when you're packing, booking your flight or rental car and finding the right travel insurance coverage.
"Booking directly with your hotel instead of a booking site offers you the best chance of negotiating a lower rate."
Booking and rate-haggling
As you likely know, the theoretically simple act of booking a hotel has more or less become its own cottage industry. With everything from all-in-one travel service providers to dedicated hotel booking sites in the mix, you might think that's the best way to go. However, this might not be the case.
According to Independent Traveler, you'll be best served by trying to book directly with the hotel or inn, either via phone or on its website. Calling may be best, because a personal interaction is most ideal for finding common ground between yourself and a sales agent, but remember to call the hotel itself and not the toll-free 800 number for the franchise. Start by asking if there are any promotions or discounts that might apply to you that are currently in effect. These will only be available through direct transactions.
If you haggle politely but firmly, you might end up with what's called the "fallback rate." Not all hotels have it, but those that do are quite literally willing to drop the list price just to get a room booked. Also, on the off-chance you find a booking site with a lower price on an identical room than the price the agent quotes you, they'll probably match it and often beat it.
Rewards and loyalty programs
If you're already enrolled in one of the many hotel rewards programs available worldwide, you already have certain discounts and probably don't have to haggle. But if you aren't, joining could be well worth your while if you keep some tips in mind.
Look for a hotel rewards or loyalty program that gives its new members a sign-up bonus. According to U.S. News & World Report, this will often come in the form of a large sum of points for spending early, giving you a leg up on cutting the price of your next vacation. It may require signing up for a credit card from a company with which the hotel chain is partnered.
Most of these initiatives will have levels of membership. You can't immediately opt for higher levels - repeat stays are necessary. But once you have become a loyal customer, your points may be worth more than their base value, or you'll receive 25 or 50 percent bonus points. 
It's easier to negotiate for lower room rates at many hotels than you might think.
Alternative lodging
While alternative facts may not be real, alternatives to traditional hotels definitely are. Consider any of these:
Bed-and-breakfasts: As the name implies, you get a room and meals, both of which are often considerably more aesthetically interesting and quaint than stock duvets and a tray of muffins, according to Time. These aren't everywhere, though - you'll most often find them in semi-rural areas or coastal destinations that attract many tourists (like Cape Cod or North Carolina's Outer Banks).
Short-term rentals: Airbnb, HomeStay and similar services, in which you briefly rent a room in someone's house or temporarily take over the whole property, can be quite cost-effective. You may be on your own as far as food and amenities go, though, and if the owner is there while you are, you may feel put off about staying with a stranger.
Hostels: Definitely the cheapest alternative lodging option, especially if you opt for shared quarters, and also the one with the fewest guaranteed perks. The beds can be perfectly serviceable, or they can make you nostalgic for the hardness of your college mattress. If possible, find a hostel that's part of the Hostelling International nonprofit, which requires its properties to meet certain safety and cleanliness guidelines - which won't be true of non-affiliated hostels.