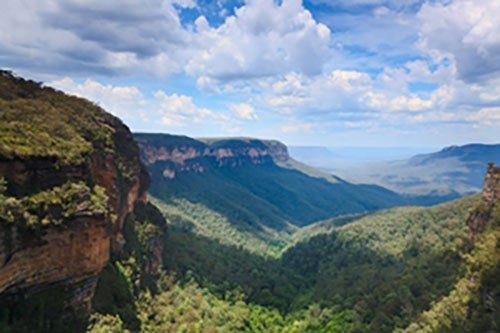 08/10/2017
One of the most exciting aspects of travel is its versatility - you can take a weekend getaway a few miles from home or jet to the furthest away points on the globe. Spend your time at a lavish luxury resort, or rough it in the most minimalist camping settings. While each way to travel and spend your time has its merits, people certainly have their preferences.
For those who view traveling as a means of exploration and really getting away from it all, finding locations that have evaded mainstream tourism is the ultimate goal. You can see sights not often seen by others, forge your own path and experience nature in its truest form. If that sounds like the kind of trip you're looking for, consider one of these five unspoiled wilderness destinations:
1. Koh Rong, Cambodia
If you're looking for a tropical island getaway but want to stay away from large, corporate resorts, you may enjoy a stay on Koh Rong. According to the island's official website, there are no paved roads, cars or electricity, though generators power lights at some businesses from 6 p.m. to 11 p.m. As a result, you can experience an unspoiled night sky free of light pollution and see bioluminescent plankton in the waters.
Koh Tuch village is home to some small resorts and a vibrant nightlife that thrives among a swath of bars and clubs, when you move away from the main strip you end up on largely secluded beaches or in lush jungles. With crystal clear waters, the beaches offer spectacular snorkeling and diving opportunities. To explore multiple beaches you'll need to take a boat or trek through the undeveloped areas in the center of the island, so it's a great location for backpackers and those who just want to explore some unspoiled wildness in Southeast Asia.
Beautiful Sharyn canyon near #Almaty #Kazakhstan pic.twitter.com/YUGIQ1B0CQ

— Galymzhan Kirbassov (@GalymKZ) January 26, 2017
2. Sharyn Canyon, Kazakhstan
While there's no denying the beautiful and natural wonder of the Grand Canyon, travelers looking to get even more off the beaten path may prefer a trip to the Sharyn, or Charyn, Canyon in Kazakhstan. Millions of years in the making and spanning 56 miles, this breathtaking sight provides unique hiking, fishing and rafting options, the Daily Mail reported. While some locals set up stands to sell food or water, travelers are advised to bring all of their own supplies as they may not get access to any shops.
Temperatures can be scorching in the summer, but it can be quite cold and snowy in the winter months, so keep the climate in mind when you plan your trip. The canyon is included in the Sharyn National Park, which also hosts native animals like gazelles, foxes and tortoises, and a relic ash tree forest.
Bialowieza Forest was inscribed on #UNESCO World #Heritage List in 1979, twice incription was extended (1992 & 2014) https://t.co/nIw5fYzSlf pic.twitter.com/ToSDTqGWhP

— whc_krakow (@info_whc) June 8, 2017
3. Bialowieza Forest, Poland and Belarus
Resting on the borders of Poland and Belarus, the Bialowieza Forest is one of the few remaining primeval forests in Europe, reported The Guardian. This stretch of unspoiled wildness is the last native habitat of European wild bison, as well as the home to boar, lynx and wolves. Lofty, ancient oak trees are spread throughout the forest, some more than 130 feet tall.
While the area contains some biking and hiking trails, as well as a natural history museum, much of the land is a protected natural park or otherwise untouched by regular human activity. The Biebrza Marsh lands are only about 60 miles away, home to other rare and exotic flora and fauna that can't be found anywhere else.
You should make your trip to the area soon, however. The Guardian reported that logging has been approved for some areas of the forest outside of the park lands, so it may not remain unspoiled for many years longer.
4. Kakadu, Australia
Kakadu National Park has the most diverse ecosystem and is one of the most undisturbed areas in Australia, according to the United Nations Educational, Scientific and Cultural Organization. While parts of the park have been inhabited by Aboriginal people for more than 50,000 years, it also includes a wide array of natural wonders unspoiled by human development. UNESCO stated that Kakadu, which is Australia's largest park, contains savanna woodlands, coastal areas and monsoon jungles. As such, it's home to hundreds of species of animals, many of which are endangered and not found in any other location, and nearly 2,000 different types of plant life.
The diversity of the landscape includes areas with towering waterfalls, deep gorges, seaside and rivers, giving visitors plenty of unique terrain to explore. If you have archeological interests as well, you'll surely be fascinated by the ancient cave paintings that have endured for tens of thousands of years. They've been used to study many aspects of Aboriginal life from religion to hunting rituals.
Kaieteur Falls in Guyana is the world's widest single-drop waterfall! #CAHM pic.twitter.com/9hzEG7dbzE

— House Of Caribbeans (@UMDCSA) June 11, 2017
5. The Amazon Rainforest, Guyana
The small South American country of Guyana is one of the best places to explore unspoiled rainforest. According to MongaBay, 76 percent of land cover in Guyana is forest. It also has one of the lowest logging and deforestation rates on the continent, after legislation was introduced in the 90's to protect the environment.
Most of the country's population lives along the coastlines, making much of the rainforest free of human development. It's home to numerous flora and fauna species, including manatees, sloths, monkeys and big cats. Traveling to the forests of Guyana is likely not a good trip for novice explorers, as the terrain can be very challenging to navigate. It'll also be important to check with your physician and get vaccinated against many tropical diseases before traveling to the rainforest.
Wherever you decide to go to explore unspoiled wilderness, be sure to take every necessary safety precaution ahead of time. Consider medical needs, travel insurance and local laws and customs to guarantee a safe and successful trip.