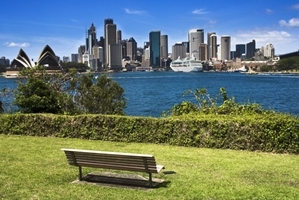 6/17/2014
No Australia travel trip that includes the Sydney Opera House is likely to disappoint, but this masterpiece of 20th-century architecture is even more spectacular during the annual Vivid Sydney festival. The celebration, which takes place every summer, fills the city with transforming light sculptures and musical performances. The most popular exhibits are on display at Circular Quay, home of the Opera House, according to The Guardian.
This year, the sixth time the festival has been put on, saw drastically increased attendance from 2013's event. Last year, around 800,000 people from across the world turned out to see Sydney lit up in living color. In 2014, the Sydney Morning Herald reported that 1.43 million guests crowded the city's streets - a nearly 80 percent increase in one year.
Part of the explosive popularity of Vivid Sydney may come from its "something for everyone" attitude, making it the rare citywide party that's suitable for family travel. In addition to the evolving light show, the festival also features live music at the iconic Sydney Opera House. This year's musical guests included St. Vincent and rock legends the Pixies. For those seeking a more thoughtful time in the middle of the raucous festival, 300 speakers were on site this year to deliver talks on creativity and innovation.