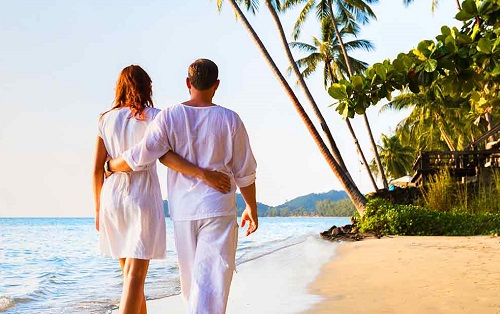 10/28/2016
A honeymoon is all about celebrating the beginning of you and your partner's life together. Unlike other vacations, this is a once-in-a-lifetime experience. Shouldn't it be as exciting and luxurious as possible? You can spend your romantic escape at an ordinary hotel, or you can invest in a vacation at a resort that caters specifically to couples looking to make the most of their new lives together.
All aspects of accommodation, from the service to location, determine whether a resort will make a great place for a honeymoon. Before you and your loved one choose a place to celebrate your marriage, take these hotels into consideration.
The Plaza, Manhattan, New York
The Plaza is an iconic destination for travelers hoping to experience true luxury in the heart of the Big Apple. If you and your spouse enjoy walks under the city lights amidst the hustle and bustle of the country's busiest city, the Plaza's location in the center of Manhattan is sure to win you over. With plenty of romantic activities to choose from, including horse-drawn carriage rides through Central Park and luxurious cruises through the city in the hotel's complementary Rolls Royce, you and your partner are sure to make lasting memories.
According to Oyster.com, the resort recently underwent a $400 million renovation in 2008, featuring new amenities and lavish features for guests, such as gold-plated bathroom fixtures. The spa is known to be one of the best with a variety of treatment options and world-class masseuses. Visitors also have the option of 24/7 personal butler service for a truly lavish experience.
The Kapuku Lodge and Treehouses, Kaikoura, New Zealand
If you and your spouse prefer a quit, rustic escape for your honeymoon, the Kapuku Lodge and Treehouses offers a rare balance of the rugged yet luxurious outdoor accommodation. Conde Nast Traveller noted that the hotel overlooks the Kaikoura Mountains and was built to encourage guests to enjoy their natural surroundings. Whether you decide to stay in the resort's main lounge or in one of the many tree houses lifted over 30 feet above the manuka grove, you'll get plenty of panoramas thanks to the many windows found in each room.
The resort works to give honeymooners several opportunities to enjoy tranquil romance in the natural setting of the New Zealand ocean with private boat tours. Here, travelers can get up close and personal with rare creatures like dolphins and whales. If you and your partner are food lovers, the resort is also famous for serving three-course dinners made from the area's finest local ingredients.
The Stoneleigh Hotel & Spa, Dallas, Texas
Travel + Leisure magazine recommended a penthouse at the Stoneleigh Hotel and Spa for couples who are looking for pampering during their honeymoon. The rooms' Art Deco design was constructed in 1934, exuding timeless elegance and grandeur that are hard to find at other hotels. The 7,200-square-foot penthouse features rooms for almost every activity, including eating, sleeping, reading and playing music. These lavish guest rooms are becoming increasingly popular among new spouses searching for the perfect honeymoon hotel.
"The expectation of what a honeymoon suite should be has changed enormously," travel agent Anne Morgan Scully told Travel + Leisure magazine. "It's not only a matter of size but of having all the bells and whistles."
Guests also get VIP views of the Dallas skyline with their own private terrace. The resort's location offers visitors the best of Dallas with high-end restaurants, shopping centers and popular museums just a short walk from the hotel. Travelers have the option of staying in the Bridal Suite portion of the penthouse for a smaller fee. However, the entire two-story penthouse will cost you more.