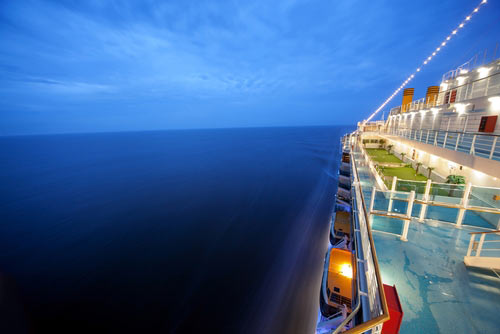 10/20/2016
With summer just on the horizon, you may be considering a cruise vacation to enjoy the sun and sea after months of rain. As there are so many cruise lines available, it can be hard to choose one for your trip. However, Royal Caribbean may make your decision easier with its new futuristic ship, the Anthem of the Seas.
What makes the Anthem of the Seas special?
Like many other cruise ships, the Anthem of the Seas is all about grandeur and elegance from the minute you step onboard with chandeliers hanging from the ceiling and high-end lounges and bars.
According to Yahoo Travel, the WiFi is already known for ranking among the fastest available on cruises. But who wants to use the Internet when there are skydiving classes right around the corner? The wind tunnel is one of the first to be built on a cruise ship.
The North Star pod is another innovative feature that lifts passengers 300 feet above the sea for panoramas of the ocean. At night you'll see the ship's pool down below lit up in a pink glow to complement the vessel's futuristic vibe.
Amenities from the future
The ship has multiple bars and cafes, many of which offer stunning views of the sea with floor-to-ceiling windows. However, what really makes the vessel's pubs special is their bionic bartenders. CNN explained that thirsty guests order their beverages from a tablet and watch as a robotic arm creates their cocktail of choice.
Some of the cafes and lounges are lit up with bright neon lights and contemporary artwork that many previous passengers say contribute to the ship's vibrant atmosphere designed with young travelers in mind.
The Anthem of the Seas took its first voyage in April and will continue trips from its home port in Southampton, U.K. before transferring to Bayonne, New Jersey.