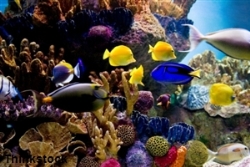 11/10/2010
Bermuda is known by many as the island around which many shipwrecks have occurred, but perhaps fewer people will know about the coral reef system around the island, which is teeming with sea life.
Triangle Diving is one company that offers scuba diving excursions to visitors to the island, the New York Times reports. Triangle's sea tours are not for the easily-spooked, however: the company reportedly takes people to one of the sunken ships around the island during the night.
The King George sunk in 1930 and remains largely intact about 45 feet below the surface of the sea, according to the news source. Graham Christmas, Triangle Diving's manager, thinks that the spooky atmosphere is worth it, since it allows visitors to have the unique experience of observing sea life at night.
"The parrotfish will be asleep; crabs and eels and octopus will be more active," he explained.
He also claims that although a nighttime dive to a shipwreck may sound scary, it's a fairly risk-free adventure, since sharks are very rarely found in the reef.
"Generally speaking, don't poke it, and it won't poke you," Christmas said.
According to the news source, the excursion is only open to certified divers and lasts three hours. The cost of the dive is reportedly $100, and the equipment rental is another $40.