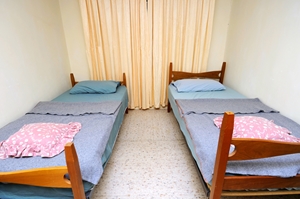 4/10/2014
Travelers hoping to make the most of their travels may want to stretch their dollars further by cutting costs when it comes to their accommodations - a solution that they can easily address by staying in hostels. While this type of lodging may not be the most mainstream choice on this side of the Atlantic, it is gaining in popularity, as budget-conscious adventurers are finding it to be an appealing option. If vacationers are thinking about capitalizing on these affordable alternatives, they should take these tips into consideration so they can make the most of their hostel experience.
What kind of room?
When making reservations, people will want to take into account not only their personal preferences, but also their travel plans so they can select the best sleeping situation. For example, are they venturing solo with an interest in making friends? If this is the case, Hostelworld recommended that they look into a room with fewer beds so that they can have a cozier social experience. This way, they can get to know their roommates, taking the time to talk with this handful of people.
Additionally, an arrangement with a greater number of beds could be a tad too loud for some folks so those who also appreciate peace and quiet may prefer to go with a more intimate room, keeping chatter to the public spaces instead.
For female travelers going it alone, StudentUniverse explained that the best bunking choice may be an all-women dorm rather than those that are coed. Although mixed rooms can be a great deal of fun, ladies could feel more comfortable sleeping among only those of their gender, especially if they don't know anyone else. Luckily, it is common hostel practice to offer both options so female vacationers can use their discretion.
If a whole group of people is traveling together, then the individuals involved should book their bunks together. In some instances, an entire party can fill a room all by itself, which makes for entertaining times.
Keep it clean
Another concern that a share of people typically have about hostels is cleanliness. Generally speaking, they are on par with hotels - but travelers should take a few precautions just in case. Before booking a bed, they need to do their research and read reviews to see what other visitors had to say.