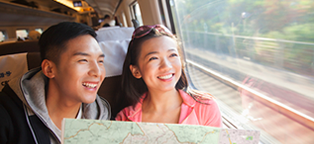 03/07/2018
Travel trends come and go, but perhaps one of the most intriguing of recent trends is the resurrection of train travel.1 With deluxe dining cars and glass-domed observation cars, train travel truly is a unique way to see countryside, villages, cityscapes and vast oceans all in one trip. Here are a few of our favorite trips by train:
Venice Simplon-Orient-Express
The Venice Simplon-Orient Express, with its glamorous carriages, delicious cuisine and personalized service, is reminiscent of a bygone era. While on trips to London, Paris, Venice, Berlin, Prague, Vienna and Budapest, passengers can expect to ride in sophisticated, old-world charm. Lunch and dinner is served in plush dining cars and guests can anticipate attire to be black tie.
The Blue Train
Soak in the spectacular scenery of Africa with a ride on The Blue Train. Take in awe-inspiring mountain ranges, arid desert landscapes, and untamed savannah grasslands teeming with wildlife. This train makes a 994-mile trek from Cape Town to Johannesburg three times a week in summer and once a week in the offseason.2
Trans-Siberian Express
Spanning 9,289 miles, the network of railways connecting Moscow with the Far East is the longest railway in the world. With connecting routes in Mongolia and China, the railway offers endless viewing possibilities. Travelers can expect an eight-day trek to complete their journey on the train, complete with a once-in-a-lifetime viewing of untouched parts of Siberia, and seasonal events such as the Naadam Festival in Mongolia in July. The journey travels across the magnificent and endless steppe and alongside the shore of the world's largest freshwater lake.
Royal Scotsman
Explore the wild wonders and special heritage of Scotland on the Royal Scotsman. The journey on this train departs from Edinburgh and showcases ancient castles, beautiful gardens and famous distilleries. The ride also features afternoon tea while guests enjoy sharing stories. Nightfall brings cocktails and candlelit dinners before guests retire to their cozy cabins to dream of the next day's adventures.3
Indian Pacific
Take in gold mines and ghost towns on the Indian Pacific train ride in Australia. As you might have guessed, the Indian Pacific journey is between two oceans on one of the world's longest and greatest trains. View the Blue Mountains and Nullarbor Plain, and see unique landscapes and a variety of fascinating wildlife.
1http://www.travelandleisure.com/slideshows/the-hottest-new-travel-trends#2
2http://www.nationalgeographic.com/travel/top-10/trains