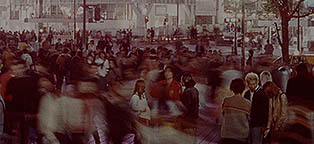 02/01/2017
New York City has a worldwide reputation for creating astounding theater, both on Broadway and Off-Broadway - after all, that's where smash-hit "Hamilton" got started. There's so much to love about theater in the Big Apple that we can't blame travelers for putting New York on their bucket list. However, the prospect of paying Broadway-level ticket prices can raise any thespian-lover's eyebrows. Luckily, there are several cities that feature unique theater on both sides of the Atlantic.
Check out these top theater destinations:
Edinburgh, Scotland
Edinburgh, split into the Old City and the New City, welcomes writers, performers and audience members every summer for the Edinburgh Fringe Festival, a month-long extravaganza of original theater performances. Pubs and courtyards have been transformed into stages for all kinds of shows since 1947. The festival has launched the career of some big-timers, including Tim Minchin, who wrote the music for "Matilda". He performed at The Red Balloon pub and went on to the win the newcomer's award. Travelers choose which shows they want to see and buy tickets for individual performances. In an effort to make theater accessible, the Fringe keeps prices low.
Melbourne, Australia
When visiting Melbourne, theater goers have so many options to choose from: They can see major Broadway hits like "The Book of Mormon" and "Aladdin" or they can step into the Malthouse Theatre to experience biting satires written by local playwrights. The city is full of breathtaking theaters like The Maj - a nickname for Her Majesty's Theatre. The venue opened its doors in 1886 and offers audiences stunning productions of operas and musicals. Shakespeare lovers can also get their fix by taking in a show outdoors with the Australian Shakespeare Company.

Boston, Massachusetts
Theater producers who want to try out a show before bringing it to Broadway will first show the smaller - but just as dedicated - theater community in Boston. That means travelers can see a show before it gets big. Speakeasy Stage Company has staged shows, like Significant Other, that have made their way to Broadway thanks to the love of Boston audiences. The American Repertory Theater, part of Harvard University, is another theater experience to check out: the venue has staged several Tony-Award winning shows and frequently engages with the community. Theatergoers that are always eager to see newer, edgier works will appreciate the variety of shows available.
Chicago, Illinois
When it comes to events that celebrate theater, the windy city has a long list of festivals year-round. Borrowing from Edinburgh, Chicago is one of the many U.S. cities that puts on its own Fringe Festival, featuring 50 shows each year. No matter your preference, you're likely to find a theater putting on a show. Musical theater fans also have a reason to add this city to their list: Chicago hosts a Musical Theater Festival, featuring 14 new works for audiences to enjoy. Underscore Theatre Company, known for producing new musical productions, has headed up the festival since 2013. Classic theater fans don't need to despair: They can stop by The Chicago Shakespeare Theatre to see works of The Bard as well as inventive new takes, including "The Q Brothers' Othello: The Remix".
Check out these cities to see the latest theater productions. Who knows, you might just discover the next smash hit!

Contact your travel insurance provider for further assistance.

The information contained here is provided by Brafton. AIG Travel assumes no responsibility for the use, accuracy, or interpretation of the information contained herein.