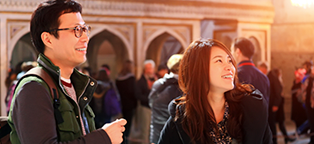 10/11/2018
Many of us dream of traveling more often, but lack of funds often contributes to staying home. For those of you who dare to dream, however, traveling the world could become a reality.
Here's how:
Voluntourism is one of the best ways to give back and see the world at a low cost. There are many development projects all over the world that are looking for volunteers, and they may even help you out with your room and board (and sometimes even flights)!
Fundraising is a way some people get to travel and experience various parts of the world. Whether it's through an overseas university research project, through a church or school group, many students and adults alike raise money to pay their way overseas to work on projects, build housing developments for the less fortunate or participate in a research project. All it takes is a little digging to see what opportunities best fit your lifestyle.
Housesitting is a great way to see the world without the steep price tag. Housesitting entails taking care of someone else's property (and possibly their pets) in exchange for your stay.1 While they may intimidate some travelers, websites connecting homeowners and house sitters – sometimes for jobs of a few weeks or longer – have emerged as another option.
Teach English Overseas: Did you know the world is in need of English teachers? A lot of countries only require that you speak English, though some may require a special certification. Many countries in Asia will even pay for your flight to get there.2 What better way to immerse yourself in a culture?
Use a Credit Card for Everything: While we aren't advocating getting into debt you can't pay off, putting all of your purchases on a credit card can earn you more points for free flights and other travel perks that will allow you to travel cheaply. Besides, you can pay off your card each month, but keep the points (and benefits from the perks)!
Embrace Serendipity: If you keep your eye out for opportunity, you will often find it. Travel for free with your friend who has a lot of friends around the country and loves to "couch surf." Research areas in other countries that are in need of a homestead sitter or farm sitter for the off-season.
Travel Slowly: Those who believe time is money may often spend more on travel. Who says that you need to drive or fly to a destination? Grab a bike and enjoy the scenery… take a bus or two… carpool with friends or refurbish an old sailboat and sail away.
For more ideas on how to travel cheaply, click here.
1 http://www.forbes.com/sites/nextavenue/2014/09/10/housesitting-a-fun-way-to-travel-the-world-on-a-dime/
2 http://www.nomadicmatt.com/travel-blogs/the-ultimate-guide-to-traveling-when-you-have-no-money/