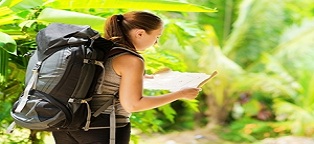 01/07/2017
When the urge for wanderlust strikes, it's not always possible to get friends or family on board. Last-minute work plans and budgets are only a few of the reasons those you love most won't be able to join you. However, that doesn't mean you have to hop a plane and land in a foreign country all on your own. There are a number of travel companies that welcome solo travelers - and some, like Education First tours, can even tailor to different age groups.
Not sure if want to join a group tour or do it alone? Check out this list below.
Going last minute? Go solo
Sites like Kayak.com, with its explore tab, can show you where in the world you can go in a pinch. Dying to see Dublin and you can nail down a ticket for less than $500? Ditch the group tour - which usually restricts dates you can travel and typically only lets you book months in advance - and instead book your trip and search out a well-reviewed hostel. You can usually crash in a hostel for a fraction of the price of a hotel and you'll be surrounded with fellow travelers -- and you can make your own adventure!
Nervous traveling on your own? Group tour it up
For some travelers, hopping a plane alone to a foreign country - where they may not speak the native tongue - is a one-way ticket to a panic attack. Group tours are a quick remedy: They provide tour guides that have access to local restaurants and give you language tips as you travel. These guided tours offer a combination of structured and unstructured travel and always make sure you have a place to rest at night. Who knows - you may even make a group of friends that will travel with you again!
Want to travel on a budget? Travel alone
Traveling can get expensive fast between the hotels or hostels, eating out for almost every meal - and let's not forget the souvenirs. When you travel alone, you can figure out when and where you want to splurge - whether it's a ticket to a new West End show or a tour of the Guinness distillery - and where you want to save. Some hostels also offer kitchen access, which can help you save a few dollars by making breakfast or dinner on your own. If you plan on traveling on your own, make sure you budget for transportation, U.S. World and News Report stated, and bring a map.
Hate long waits for tourist attractions? Go with a group
Group tours, perhaps as a result of their size, offer perks like queue-jumping. If you're interested in seeing major tourist attractions like the Sistine Chapel in Vatican City - which usually has a line that snakes down the street - going with a group will be a time-saver. Some groups also offer behind the scenes tours of local attractions or additional discounts for places to explore in your free hours.
Exploring without a plan? → Better to travel on your own
Some of the most exciting and memorable adventures you can have come from wandering through bustling cities. If you prefer to explore at your own pace, plan a solo trip and bring a solid pair of walking shoes.
No matter how you travel, exploring a foreign country is going to be full of memorable experiences. Be sure to stay safe before you go by thoroughly researching where you're exploring. And once you hit the ground, keep all of your important documents on your person, USA Today noted. And of course, enjoy!


Contact your travel insurance provider for further assistance.

The information contained here is provided by Brafton. AIG Travel assumes no responsibility for the use, accuracy, or interpretation of the information contained herein.