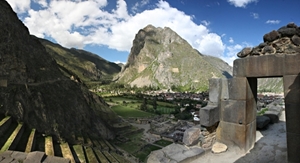 06/12/2014
A new trail leading to the famed Machu Picchu has been discovered by archeologists. The team, led by Machu Picchu Archaeological Park director Fernando Astete, has begun clearing the densely overgrown path, according to Peruvian news agency Andina. Astete told the news source that the road's historical value makes its restoration a priority.
A new approach to Machu Picchu
The road, which varies from 3.9 feet to 4.5 feet in width, is about 1 mile long and leads to an area in the back of Machu Picchu called Wayraqtambo, Fox News Latino reported. One of the path's most striking features is a tunnel, the full length and height of which is not yet known. However, researchers estimate that it is about 15 feet long and 12 feet high. Before the full dimensions of the tunnel are revealed, it will have to be heavily excavated, but archaeologists are already praising the construction.
"This tunnel, built with carved rocks, is one of the best examples of Inca engineering and is still intact 500 years after its construction," Astete told Andina.
Visitors approaching Machu Picchu from the new road will be able to see parts of the citadel from an angle not possible since the trail fell out of use centuries ago. Astete told Peru This Week that the view of the village area was especially impressive.
Well-traveled roads
He also said that, once the new road is open, it should make ingress to the city easier by relieving pressure on its crowded main path. That's good news, as Andina also reported that Machu Picchu hosts around 2,500 travelers per day. Travel to the site brings in $35.9 million every year. June is particularly busy, as the city of Cusco, about 75 miles southeast of the site, holds an annual Corpus Christi festival that is highly attended. Astete estimated that 75,000 people come to Cusco for the holiday.
The newly discovered road may soon be put into heavy use. Machu Picchu is one of the world's most popular tourism sites and, according to a survey from Hostelworld.com, one of the spots that travelers would most like to visit if they could. The favorite South America travel destination beat out Kruger National Park in South Africa and Australia's Great Barrier Reef for the top spot. According to Global Post, the city led the poll by more than 1 million votes.