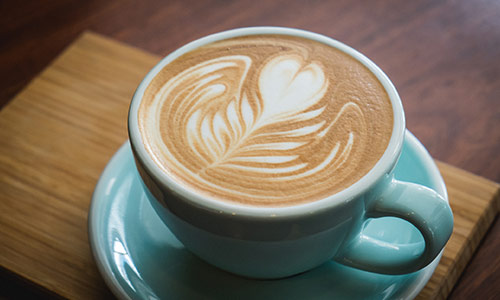 10/27/2021
Unsurprisingly, Italy is the birthplace of the cappuccino. Its name originates from the Capuchin Friars in 16th century Italy due to the color of the beverage being the same as the robes worn by the monks.
The method of creating a cappuccino will differ between each barista and coffee house, but traditionally consists of a single shot of espresso with hot, foaming milk poured on top, ensuring the top third of the drink is foam. Also, Italians usually only consume a cappuccino in the morning.
We've rounded up the best places in America to grab a cup of joe and how much it will set you back to celebrate National Cappuccino Day on November 8.
1. New York
With over 3,000 coffee shops to choose from, New York really is the city that never sleeps! Fans of the TV show Friends, have even worked out that 1,154 cups of coffee were drank by the characters in the iconic Central Perk during the 10 seasons of the show.
Where to go? According to Trip Advisor, Frisson Espresso is the best place to grab a coffee so expect impressive cappuccino art and unique surroundings such as their coffeology mantra, which states 'friends don't let friends drink bad coffee.' We can't argue with that!
Cost of a cappuccino? $4
2. Seattle
As the birthplace of Starbucks, Seattle is renowned for its laidback bohemian lifestyle and café culture. It is said that more coffee is consumed here than any other American city.
Where to go? Café Allegro in Seattle's university district, created by Dave Olsen, who later became a Starbucks executive, this spot is said to be Seattle's oldest coffee shop, and the interior hasn't changed since it opened 35 years ago.
Cost of a cappuccino? $3.75
3. San Francisco
San Francisco is home to historic bohemian coffee shops, synonymous with beat culture and frequented by musicians and poets. On the contrary, it was also the first place in the world to open a coffee shop served by robots in 2017 known as café X.
Where to go? Caffe Trieste celebrated its 65th year in business in 2021, and its website says it's a perfect blend of Old Italy, Bohemian poets, art and music, and excellent Espresso. What more could you ask for in San Francisco?
Cost of a cappuccino? $4
4. Portland
Portland is known for having an established yet laidback coffee culture. The journalist Oliver Strand wrote: "Seattle coffee might have more muscle, and San Francisco coffee might have more mystique, but Portland's coffee scene is arguably the country's most intimate. It's also one of the most relaxed."
Where to go? Stumptown Coffee Roasters was opened in 1999, and their coffee is true craftmanship. Their website even says that each sip of coffee is a culmination of years of work, three-thousand-mile journeys, and passion.
Cost of a cappuccino? $3.75
5. Los Angeles
Known as the health food Mecca of the U.S., cafés in Los Angeles are home to many new food trends such as the Lavender Latte, which is said to counteract any of the jittery side effects from caffeine. Don't worry though, there are still places to enjoy a humble cappuccino throughout the city.
Where to go? An LA visit wouldn't be complete without trying to spot celebrities while sipping on your favourite cup of coffee. Alfred Coffee on Melrose Place is often seen with paparazzi outside, so your chances of catching a famous face here are high.
Cost of a cappuccino? $4.50