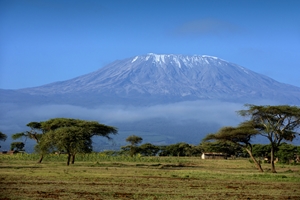 6/10/2014
For mountain climbers around the world, Mount Kilimanjaro in Northern Tanzania has taken on mythic proportions. According to Lonely Planet, around 25,000 people attempt the climb to the summit every year. Climbing the mountain doesn't require much experience with tricky climbing or expensive gear. Even ropes aren't necessary to reach the peak. However, the climb is no easy feat. Travel guide Ultimate Kilimanjaro reported that about 10 people die every year on the slopes and 1,000 more need emergency evacuation. As the world's tallest volcano, it should be no surprise that Kilimanjaro poses a danger to unwary climbers during their Africa travel experience.
Facing environmental challenges
Despite the danger, Kilimanjaro has long been a draw for adventure travel fans, sometimes to its own detriment. The Kilimanjaro Trust reported that the mountain is one of the world's greatest centers of biodiversity, but its ecological balance was at one time threatened by careless travelers and nearby residents. Logging and farming removed large portions of the mountains trees and other plants, while climbers unconcerned with the mountain's fate once damaged local wildlife and left garbage in their wake in the rush to reach the peak.
However, CNN reported that those times of irresponsibility are over. The Tanzania National Parks Authority has been taking steps to keep Kilimanjaro's trail clean and to educate climbers about the ecosystem they're visiting. Thanks to the efforts of the parks service and the climbing community, the mountain habitat has returned to a more hospitable sate.
A hearty habitat
Kilimanjaro remains a safe haven for a variety of plant and animal species. According to UNESCO, 2,500 plant species share the mountain with 140 different kinds of mammal and 179 types of bird. Some species, such as the African elephant and Abbot's duiker, are endangered or vulnerable and can be found in diminishing numbers both on the mountain and elsewhere.
Climbing from its base to peak, mountaineers pass through five distinct biomes, according to Tanzania National Parks. Farmlands ring the mountain and give way to rainforests at its base. Species from buffaloes and elephants to leopards and monkeys make their home in the lower rainforests. Less dense forests sit above, and even more barren alpine bogs and deserts lead to the peak, where only scattered examples of lichen and moss are found. At the mountain's summit, the highest point in Africa, all visible life gives way to snow and ice.