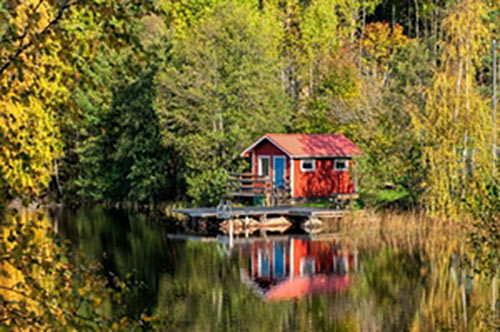 9/28/2020
Modern technology can sometimes feel like a burden, with so many different apps and notifications all vying for your time and attention. Between tweets and e-mails, smartphones and laptops, the technological lifestyle can start to be exhausting and dreary.
If you're looking to get away from this hustle and bustle and spend some time slowing down and reconnecting with nature, to trade in your office shoes for hiking boots and breathe in that crisp mountain air, consider planning your next vacation for the majestic natural splendor of Rocky Mountain National Park.
Rocky Mountain National Park was established in 1915 and encompasses more than 400 square miles of mountains, alpine lakes, and wooded forests threaded with streams, rivers, and wildlife. It's become a popular tourist destination, with more than 4.6 million recorded visitors in 2019 according to NPS data, and as such there's no shortage of sights, attractions, and accommodations for exploring this jewel of the U.S. landscape.
What to do
Whether your preferred vacation escape entails outdoor activities like rafting and mountain biking or relaxing in the quiet solitude of nature free from the hum of technology, this destination has something for everyone. 
Rocky Mountain National Park offers a variety of paved routes for mountain bikers.
If you like to get up and go, consider one of the many sports offered in the park and surrounding areas like fishing, rafting, or biking. Colorado is considered one of the nation's friendliest states for bicycles, and there are many scenic roads and downhill bike routes that can get you closer to nature than just driving. One of these routes is none other than Trail Ridge Road, the highest paved road of any national park in the United States at an altitude of 12,183 feet above sea level. Travelers on this road go above the tree line, and the forests yield to stunning vistas of the alpine tundra and interior wilderness of the park.
If your idea of a vacation, however, is something more restful, there are just as many opportunities in the park for reflective meditations on the beautiful natural surroundings as there are for activity and sports. The park contains more than 300 miles of walking and hiking trails. Search for delicate alpine wildflowers on the Jean Lunning trail, or pack a picnic lunch and dig your toes into the pebbly sand of Copeland Lake. There's also horseback riding, if you prefer to let your horse do the walking for you - 80% of the trails in the park are accessible by horseback, and there are many stables in the area that offer guided tours.
Where to stay
The nearby town of Estes Park is the hub for most of the park's tourism and offers a variety of lodgings for every visitor. In addition to the motels, RV parks and rustic lodges that are standard for a tourist town, Estes Park also has the Stanley Hotel, an elegant Colonial Revival establishment, which inspired Stephen King's 1977 novel "The Shining" and has since gained a reputation as one of the most haunted hotels in the U.S.
"Rustic log cabins offer a true escape to the outdoors."
However, for the most authentic experience of the Rocky Mountains uninhibited by technology, you might consider staying somewhere further off the beaten path. Bordering RMNP, just outside of Estes Park, there are a number of independent resorts that rent rustic log cabins to visitors. These resorts, like Meeker Park lodge in Allenspark, offer cabins equipped with basic amenities like heat and electricity without distracting technologies like internet access and cell phone service, facilitating a true escape to the outdoors.