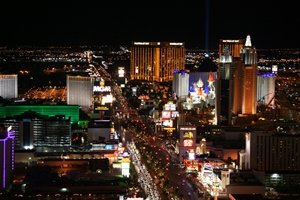 06/13/2014
Though Las Vegas built its reputation on glitz and gambling, visitors will find that a trip to the city doesn't quite break the bank. A study from TripAdvisor named the city famed for its decadence the cheapest summer destination for United States travel. The most expensive trip was not too far away, in San Francisco. TripAdvisor's study examined the average prices of hotels, taxis, dinner and drinks.
Visit the Strip without losing your shirt
For the last four years of the survey, Las Vegas has claimed the top spot for affordable vacations. This year, travel to the city should be even cheaper.
"Travelers are eager to get out and explore this summer," Brooke Ferencsik, TripAdvisor's director of communications, said, "and with hotel prices in major U.S. and global cities down 6% and 7%, respectively, travelers will be able to find more affordable stays and dedicate a bigger chunk of their budgets to meals and entertainment."
In 15 out of the 20 cities the travel website examined, hotel rates had dropped in the last year. Warmer cities in the South saw the biggest decline, and also captured 6 of the 10 spots on the cheapest destinations list.
Building boom
Las Vegas's low price point doesn't mean that the city has stopped developing. In fact, construction has picked back up in the city after a lag during the recession, Bloomberg reported. Everything from housing to entertainment is seeing another building boom.
Making up for a decline in gambling, casino owners are diversifying by putting up night clubs and restaurants to add to the city's already bustling night life. In addition to the company's new dining offerings, MGM Resorts International is thinking even bigger, erecting a stadium with a capacity of 20,000 for sporting events, award shows and concerts.
Gamblers and geeks
If a night out on the town still sounds like too much of a drain on the wallet, Las Vegas also has events to please those who are more likely to spend their nights playing Dungeons and Dragons than Texas Hold'em. The Amazing Las Vegas Comic Convention, held at the end of June, draws fans and creators of all types of geek culture from Superman to Star Wars. This year's event hosts comic book legends Jim Lee and Rob Liefeld, along with a galaxy's worth of other artists, writers and actors, according to its website. Fans are invited to show their true colors with costume contests, making the convention just as bright and glamorous as the Las Vegas Strip itself.