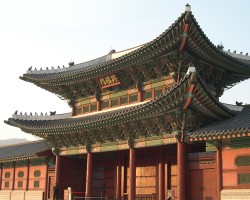 5/18/2012
When learners venture to the nation of South Korea, they might find that Seoul's palaces are the perfect locations for student travel. Many of these buildings were built thousands of years ago and contain the memories of the country's royal history.
One of the most famous palaces in South Korea is Changdeokgung, or the Eastern Palace. Now a UNESCO World Heritage Site, the palace was built in 1405 as the primary home of Joseon kings. Filled with gardens, small ponds and beautiful pavilions, the kings considered it a serene place of rest until 1592. In that year, the royal family was forced to flee after the Japanese invasion, and angry citizens burned the palace to the ground.
Luckily for today's visitors to Korea, the palace was restored to its former glory in 1611, and it has largely managed to stay in this same condition ever since. Students can easily spend an entire afternoon strolling through the enormous property, which features the towering main palace, the former royal family residence building and expansive gardens.
Then, after a day filled with palace tours and information on the fascinating history of Korea, students can head to the palace's tea house. Here, they can sample a wide variety of Korean teas, including citron, a sweet, hot beverage made with honey and citrus fruits.
Another popular palace for travelers in South Korea is Gyeongbokgung, or the Northern Palace. This site was built a little before Changdeokgung in 1395, and unfortunately, it also suffered from Japanese occupation. Like Changdeokgung, the palace was destroyed by a fire, but later restored to what many locals consider the grandest and most beautiful of all the royal palaces in Korea.
Historians say that when students visit the Gyeongbokgung Palace, they should be sure to look out for the Gyeonghoe-ru Pavilion and Hyangwonjeong Pond. Both structures have managed to stay largely intact throughout the palace's long history, and serve as one of the best examples of Joseon Dynasty structures.
Still, for travelers who simply cannot get enough of Korean history, both the National Palace Museum of Korea and the National Folk Museum are located near Gyeongbokgung. With so much culture and history in one place, visitors are sure to make the most out of their Asia travel experience in Seoul.