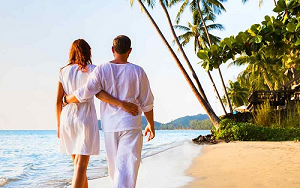 10/07/2019
 Let's be honest, most couples are just as, if not more, excited for their honeymoon as they are for their wedding! Who wouldn't want the opportunity to take a romantic trip with the person you love and be solely in each other's company? And with the endless amount of destinations available to travel to, trying to find the right destination can be difficult. Before you jet-off, keep these tips in mind for selecting the right all-inclusive honeymoon destination.
Consideration is key
Before deciding on a destination, it is important for couples to have an idea of what they want and how much they are willing to spend. Most couples opt for an all-inclusive honeymoon because of the many benefits. Booking at an all-inclusive resort can take the stress out of a couple's getaway because with one payment most transportation, food, drinks and activities are covered. This allows honeymooners to sit back, relax, and truly enjoy their time together.
Money can be another factor in determining the right all-inclusive honeymoon. While the average wedding in the United States costs $34,000, a budget for the honeymoon is typically 15% of that according to Business Insider. That can fall anywhere in the range of $4,500 - $5,500 for a couple. Of course, just because this is the average does not mean it is the budget for you. Some couples may choose to spend more on a honeymoon than they would on a wedding, but this number is a good starting point for couples starting their honeymoon destination search. Depending on the location and package chosen, this cost can drastically increase or decrease. Make sure you are deciding together what the budget will be before falling in love with a destination that is out of your price range.
Location, location, location
Now to the good stuff - where is the best place for a romantic all-inclusive honeymoon? You could ask a hundred different couples and receive a hundred different answers to this question. Someone's ideal action-packed honeymoon in the snowy mountains could be a laid-back beach lover's worst case scenario. Here are the five best locations around the world for a romantic honeymoon that fall within the average budget.
1. Hawaii
If snorkeling and surfing are what you seek, Hawaii could be your perfect destination. Many couples dream of a Hawaiian honeymoon, and there are plenty all-inclusive resorts that fit the bill. With an emphasis on privacy and enjoying nature, resorts in Hawaii offer a nice balance between activities and couple time. And good news for U.S. citizens, no passport is required if you are coming from the states!
2. Paris
Who doesn't associate Paris with romance? If you are looking for a chic and romantic honeymoon, the French capital offers luxury with a side of amazing views of the Eiffel Tower. Enjoy being in the heart of the city and enjoy a hotel spa treatment for two once you get back to your hotel.
3. Greece
Greece can be the best of both worlds for couples wanting a taste of history with pristine beaches to match. Look for a honeymoon package that includes champagne upon arrival and a luxury boat trip to enjoy the Aegean Sea.
4. Fiji
Have you always wanted to spend your days in an island cabana surrounded by some of the bluest waters you'll ever see? Private bungalows over the water invite you and your partner to spend the entire day relaxing and taking in the endless expanse of ocean.
5. Thailand
Resorts in Phuket, Thailand take couples into the lush jungle and packs on the amenities. All-inclusive resorts here seem almost too good to be true. If you're big on amenities and want to experience the Thai jungle with ocean views, this could be the location for you.
With so many options it can be hard to just pick one! For your honeymoon, make sure you and your partner are clearly communicating your expectations of the trip. This includes everything from desired location, amenities and activities. Choose a destination and resort that can best match everyone's dream honeymoon, and save other destinations for future trips.
Romantic retreats are not exclusive for a honeymoon, plan to visit other destinations for important milestones in your marriage. Many of the tours and excursions offered by resorts are optional, allowing you and your partner to pick and choose what you want to do and see. Remember, choosing a destination is just one step in planning your honeymoon, check out other honeymoon travel tips and news for extra inspiration on your honeymoon destination.