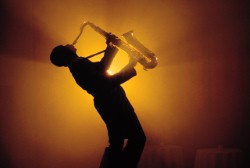 4/5/2012
Those who can't get enough of the sea and sky can make plans to head for the Caribbean this spring. Specifically, St. Lucia is the quintessential island full of pristine shorelines and stunning landscapes covered in tropical flora and fauna. Not only does this destination have amazing natural wonders to admire year-round, but it also hosts an exciting Jazz Festival every year that welcomes residents and tourists alike to attend in April and May.
Last year, the festival celebrated its 20th anniversary as one of the most prominent gatherings for this musical genre around, according to the official website. The broad range of performers that participate every year come from local towns and across the globe, offering various jazz works that fuse Latin, African and European influences, to name a few. Organizers say they hope to connect all those on the island through the universal language of music and encourage travelers to experience the passion and culture of the small island country.
For the show this year, the repertoire of artists performing is more impressive than ever. Guests who attend the festival can see international stars such as Lionel Richie, Ziggy Marley and the Gypsy Kings. Most of the concerts take place at the Pigeon Island National Landmark and the Mindoo Philip Park, and options for food and souvenirs will also be available on the grounds. Spectators are encouraged to bring lawn chairs or simply their dancing shoes to take part in the fun event.
Those who wish to journey to St. Lucia from the U.S. will have a new option for flights starting this summer. JetBlue recently announced that they will be adding a daily direct route between the JFK International Airport in New York and this Caribbean island. Passengers will be able to start their tropical adventure in St. Lucia in a little more than four fours from takeoff in the Empire State.
Now may be the best time for travelers to start planning their spring or summer trip to the Caribbean, for when the weather warms the real fun begins throughout the exotic locale. It may now be easier than to reach St. Lucia to enjoy the jazz festival, attractions, outdoor activities, historical landmarks as more during a thrilling adventure travel trip.