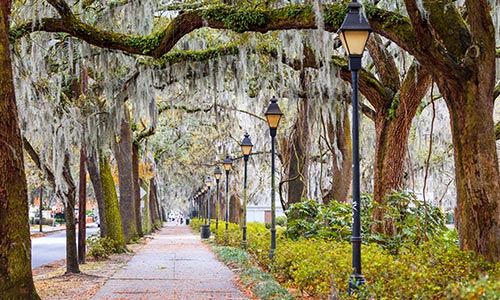 10/11/2021
As we find ourselves admiring the changing leaves and pleasant temperatures that come along with the fall season, many of us begin setting our sights on a much-loved holiday: Halloween. Whether you plan to stay local to indulge in some candy or travel far and wide to seek out the most frightening thrills, Travel Guard has narrowed down a list of the spookiest destinations to visit during this fearsome season. 
Savannah, GA
Savannah is, without a doubt, the most haunted city in the United States. The city offers several guided ghost tours and features a huge saturation of haunted sites, from cemeteries with moving statues to haunted houses with screaming phantoms.
Perhaps the most renowned spooky site is the Bonaventure Cemetery, brought to international fame by John Berendt's bestselling Midnight in the Garden of Good and Evil. While walking among the shadows of the Spanish moss-adorned oaks, be sure to visit the grave of Little Gracie, the daughter of local hotel owners who perished of pneumonia just before Easter Sunday over 130 years ago. Keep an eye out for her in downtown Johnson Square as well – she is said to still be roaming there to this day.
Berendt's bestseller largely unfolds within the Mercer-Williams House, which is arguably Savannah's most haunted residence. The house has seen more than its fair share of deaths and is said to be the final resting place of no fewer than three ghosts, which are rumored to this day to be heard walking around the house and spooking guests of the Museum that has since been opened in the space.  
Memphis, TN
While the heart and soul of Memphis is grounded in the blues and rock n' roll, the city is also filled with many souls who lost their way between life and their final rest. 
Memphians can agree that no local spot is spookier than Earnestine & Hazel's, a legendary dive bar located on South Main. Earnestine & Hazel's continues to serve several unruly, other-worldly patrons who regularly spook guests and staff by phantom-playing the piano upstairs or unexpectedly blaring music from the jukebox. 
Once you've had a burger and a walk through the dark upstairs halls of Earnestine & Hazel's, continue your journey up South Main until you reach the Orpheum Theatre. Book tickets in advance to catch a ballet, off-Broadway performance, or concert – but don't be surprised when you aren't offered seat C5 as an option. This seat is said to house a permanent patron, Mary the Ghost, who lost her life outside the theater in the 1920s. Mary is known to wreak havoc upon staff and theatergoers before and after shows by slamming doors and flickering lights. 
New Orleans, LA
With its main throughfares peppered with voodoo shops and its cemeteries filled with above-ground tombs, there is no telling how many spirits are still meandering throughout the Big Easy.  
The grimmest of all the spooky places New Orleans has to offer is undoubtedly the LaLaurie Mansion, located on Royal Street in the heart of the French Quarter. Madame Delphine LaLaurie, a New Orleanian socialite and widow, occupied the mansion in the early 1800s and was reported by fellow New Orleanians to treat her many servants quite cruelly. Her mistreated servants are still heard on the premises to this day, despite the original building being destroyed in fires set by mobsters infuriated with Madame LaLaurie.   
Be sure to visit Faulkner House Books. Now a bustling yet compact bookstore, the house once belonged to William Faulkner in the 1920s, as he was just beginning his writing career. It was in this home that he wrote his first novel. Soon after publication in 1925, Faulkner returned to his home state of Mississippi, but countless reports over the years suggest that Faulkner's ghost came to rest in the home. His ghost can occasionally be spotted sitting behind the desk, eternally smoking a pipe that can still be smelled to this day.