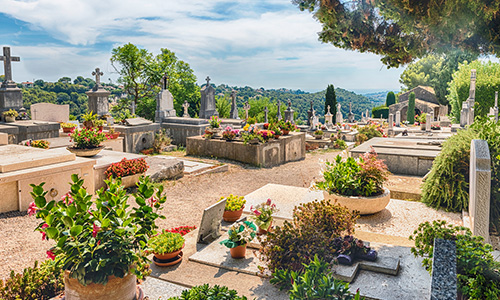 2/10/2021
Few places bring to mind thoughts of romance and love more than France. A table for two at a quiet café, stealing a kiss on a bridge overlooking the Seine river in Paris – these are the intimate moments that abound throughout France. While Paris is the most well-known romantic destination, France has plenty of other hideaways to explore. Whether for Valentine's Day, a honeymoon, anniversary, or just because, explore these lesser known areas of France with a loved one and you can be sure there will be romance and amour in the air.
St. Paul de Vence
Located in the South of France, St. Paul de Vence is a picturesque village full of art galleries, boutiques, and sidewalk cafés. Many artists began frequenting St. Paul de Vence in the early 1920's for its brilliantly colored flowers and landscapes, leaving the village with exquisite paintings that still decorate city walls today. 
Loire Valley
Escape to a land of royalty. The Loire Valley is a real-life fairytale with famous castles like Château de Chambord and Château de Chenonceau dotting the countryside. The Loire Valley is also known for its magical gardens. The Chateau du Rivau boasts 12 gardens all with a fairy-tale theme; you could run into a life size gnome sculpture or visit the garden of love potions. 
Bordeaux
A wine lover's paradise, Bordeaux produces some of the most exquisite wines in the world. Tours of wine cellars are popular allowing you to taste several of the world's finest wines at once. A cozy port city, Bordeaux can be found on the Atlantic coast and was recently named by the United Nations Educational, Scientific and Cultural Organization (UNESCO) as a World Heritage Site under the name Port de la Lune or Port of the Moon.
Hautes-Alpes
Located in the most northern region in Provence, the Hautes-Alpes region is brimming with outdoor activities. A year round destination, Hautes-Alpes is perfect for hiking, canoeing, and cycling, but is probably best known for its skiing opportunities. With several well-known ski resorts and reliable snow fall, the Hautes-Alpes is an enchanting winter getaway.
Pack Travel Insurance
Romantic getaways are a time to relax and focus on each other. Show you care by being prepared with a travel insurance plan with 24/7 assistance to help take the stress off so that you can concentrate on enjoying your vacation. Our around the clock assistance services can go to work on your behalf re-booking flights and hotels, finding lost luggage, making reservations at a high-end restaurant and much more. 
Expenses incurred by third parties for services not part of a filed insurance plan are the responsibility of the traveler.