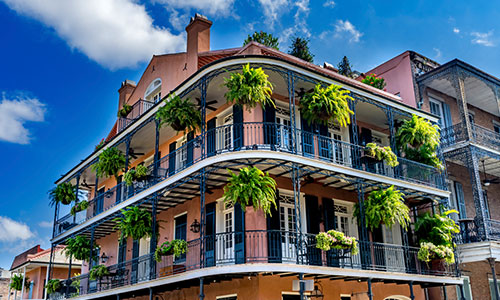 2/11/2021
1. The Food
New Orleans is well known for its delicious and varied food options. From Michelin star restaurants to po-boy sandwiches on the go, quality eats are around every corner. One of the more famous foods is King Cake, popular during Mardi Gras. King Cakes are traditionally a brioche-based cake covered in icing and sprinkled with purple, green and gold sugar. 
2. The Music
Walk the streets of New Orleans, particularly Bourbon Street, and it's not uncommon to hear jazz music pouring out of local clubs and restaurants. New Orleans is known as the birthplace of jazz1 – and the wild, jubilant, smooth sound is everywhere. There is even a Jazz Museum with interactive exhibits and musical performances2. 
3. The Architecture 
The streets in the French Quarter of New Orleans are iconic. The cast-iron balconies and walled courtyards are worth the visit alone. But what many people don't know is that almost half of the buildings that residents call home in New Orleans were built before World War II3. The city and especially the architecture are filled with history and stories of the city's past. 
4. The Festivals
New Orleanians know how to celebrate. Of course, Mardi Gras is an extremely popular festival in New Orleans typically bringing in 1.4 million tourists. But there's also an annual Satchmo Summerfest, honoring the legacy of Louis "Satchmo" Armstrong one of the most influential people in jazz. And a festival celebrating the city's most iconic neighborhood, French Quarter Festival, is held in the fall and highlights the food, music, and art of the area. 
5. The People
The thing that most makes New Orleans worthy of a visit is the people themselves. The laid-back vibe of the south permeates throughout New Orleans and its people. The city's residents have a rhythm and style all their own. New Orleans is a large city, but its nickname "The Big Easy" is well-deserved with its easy-going and slow-paced nature that encourages appreciating the moment and those you're with. 
Sources:
1: https://www.neworleans.com/things-to-do/music/history-and-traditions/birthplace-of-jazz/
2: https://www.neworleans.com/listing/new-orleans-jazz-museum/35480/
3: https://www.nola.gov/nola/media/HDLC/Guidelines/03-TypesStyles.pdf